Home » Articles » Pradhan Mantri Awas Yojana: Empowering Women Through PMAY
Also, read this article in हिंदी, मराठी, తెలుగు, தமிழ், ગુજરાતી, and ಕನ್ನಡ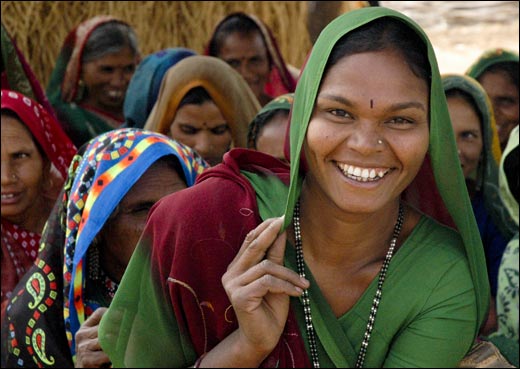 The government's flagship scheme Pradhan Mantri Awas Yojana (PMAY) is a Credit Linked Subsidy Scheme (CLSS) and is categorized as urban and rural together based on annual income level to provide applicable benefits of subsidy on interest rates on home loans.
Under the 'Housing for All' scheme, those with annual income not more than Rs 18 lakh per year can apply for it. For Economically Weaker Section (EWS) or Lower Income Group (LIG), the interest subsidy would be provided on housing loans for the acquisition and construction of the house. For the middle-Income Group (MIG), the interest subsidy would be provided on housing loans for the acquisition or construction of homes, including repurchase. The interest subsidy aid will be upfront on the principal outstanding.
Under this scheme, women get many advantages over men. Just like men, the govt would offer a subsidy of up to 2.67 Lakh to the woman applicant. However, the condition for this has been kept that this should be the first house of the applicant's women. That is, the advantage of the scheme is given only on purchasing the first house.
Keeping in mind the necessity of the women, the govt has also included widows, single women, and women of the SC-ST category in this scheme. Also, the advantage of this scheme is additionally being given to disabled women and employed women. These women are being provided with a cheap and affordable home on a priority basis.
It is known that if a lady takes a home loan from a bank to buy a house, then a less expensive loan is offered than men. In such a situation, you'll make a woman member of your family a partner of your investment under the Pradhan Mantri Awas Yojana.
Benefits of PMAY for Women:
Home loan for women is out there at 8.25 percent per annum
The EMI for a home loan of Rs 1 lakh would be Rs 853
This scheme is often availed for a period of up to twenty years
Loan up to Rs 70 lakh are often availed under this scheme
No pre-payment charges under this scheme
Interest is calculated on a daily reducing balance
Rebate in Interest by Banks:
Most banks offer a concessional rate of interest for women homebuyers to spend on the property. There are quite a few banks that provide special housing loan rates to women borrowers. The rates vary consistent with the profession and amount of finance applied by these borrowers. On average, the women borrowers can get a rate of interest concession of 0.05 percent over their male counterparts.
Partial Waiver of Stamp Duty:
A few state governments additionally offer partial waivers on stamp duty, for purchasers registering properties in a woman's name – either as a sole proprietor or as a joint proprietor. This waiver varies between 1 to 2 percent on stamp obligation if the property is in a woman's name.
Tax Benefits:
There are some tax benefits of buying a house in the name of a woman that includes a deduction of interest up to Rs 2 lakh every fiscal year if the home is self-occupied. If a husband and wife are the joint owners of a property and if the wife has a separate source of income, then they both can claim tax deductions individually. The tax deduction will depend upon the ownership share of each co-owner.
PMAY Scheme for Women:
The Pradhan Mantri Awas Yojana (PMAY) is envisaged to encourage homeownership amongst women in cities also as the villages. As per PMAY guidelines, the govt has made it necessary for a family to possess a minimum of a one-woman member registered as the owner of a new house under the flagship housing program. Besides, women borrowers, like their male counterparts, also can get a rate of interest concession on a home loan under PMAY, which is now attached to the Credit-linked Subsidy Scheme (CLSS). CLSS lets women borrowers avail the advantages of interest subsidies on their home loans.
CLSS benefits are divided into four sections – Economically Weaker Section (EWS), Low Income Group (LIG), Middle Income Group – 1 (MIG-I), and MIG – II. Those earning up to Rs 3 lakh, Rs 6 lakh, Rs 12 lakh, and Rs 18 lakh a year come under EWS, LIG, MIG-I, and MIG-II categories, respectively.
Women borrowers falling under EWS and LIG can avail of an interest subsidy of 6.5 percent on a home loan of up to ₹6 lakh. Beyond the said portion of a loan, normal interest rates will apply. While MIG-I borrowers can get an interest subsidy of 4 percent on a home loan of up to Rs 9 lakh, those availing of the scheme under the MIG-II are likely to enjoy a 3 percent subsidy on a loan of up to Rs 12 lakh. The loan amount above the subsidized portion in each of the 2 cases is probably going to bear normal rates. The interest subsidy is calculated at the Net Present Value (NPV) of the subsidy amount. The NPV is calculated at a reduced rate of 9 percent. The interest subsidy so arrived will get subtracted from the first loan amount before the normal rates apply to the balance amount of a loan
How to Apply for Pradhan Mantri Awas Yojana:
If you qualify for PMAY and are wondering the way to apply for PMAY online, follow the step-by-step guide below.
Identify the category under which you qualify for PMAY.
Then visit the official website: http://pmaymis.gov.in/
Click on 'Citizen Assessment' under the main menu and choose the applicant category.
You will be redirected to a separate page where you should enter your Aadhaar details.
Fill out the online PMAY application along with your personal, income, and bank account details, and current residential address.
Enter the captcha code, verify details for accuracy, and submit it.
You can track the appliance status afterward by clicking on 'Track your Assessment Status' under 'Citizen Assessment'.
Also Read: Home Loan for Women
Share this article on WhatsApp.