Home » Articles » Pradhan Mantri Awas Yojana Urban (PMAY-U): Housing for Urban Citizens
Also, read this article in हिंदी, मराठी, తెలుగు, தமிழ், ગુજરાતી, and ಕನ್ನಡ

Pradhan Mantri Awas Yojana – Urban (PMAY-U), a leading mission of the Government of India executed by the Ministry of Housing and Urban Affairs (MoHUA), discuss urban housing deficit among the EWS/LIG and MIG classifications, including slum dwellers, by guaranteeing a pucca house to all eligible urban households by 2022, when Nation completes 75 years of its independence PMAY (U) adopts a demand-driven approach in whose housing shortage is decided based on the assessment of the demand by States / Territories of the Union: the nodal agencies at the state level (SLNA), the local urban authorities (ULB) / implementation agencies (IA), the central nodal agencies (CNA) and Primary Lending Institutions (PLI) are key stakeholders playing an important role in the implementation and success of PMAY -U.
The Mission covers the whole metropolitan territory comprising of Statutory Towns, Notified Planning Areas, Development Authorities, Special Area Development Authorities, Industrial Development Authorities or any such authority under State enactment which is depended on the elements of metropolitan arranging and guidelines.
All houses under PMAY-U have fundamental courtesies like latrine, water supply, power, and kitchen. The Mission advances ladies strengthening by giving the responsibility for in name of the female part or joint name. The inclination is additionally given to distinctively abled people, senior residents, SCs, STs, OBCs, Minority, single ladies, transsexual, and other more fragile and weak segments of the general public. A PMAY(U) house guarantees stately living alongside feeling that all is well with the world and pride of possession to the recipients.
PMAY(U) embraces a cafeteria way to deal with suit the requirements of people dependent on the geological conditions, geology, monetary conditions, accessibility of land, framework, and so forth. The plan has subsequently been isolated into four verticals as given underneath: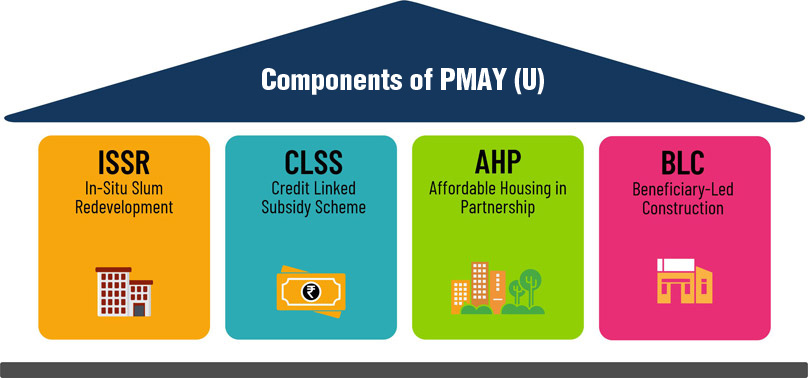 1.In-situ Slum Redevelopment (ISSR):
Central Assistance of Rs. 1 lakh for every house is permissible for all houses built for qualified slum dwellers under the segment of ISSR utilizing the land as a Resource with an investment of private engineers. After redevelopment, de-notice of slums by State/UT Government is suggested under the rules.
Adaptability is given to States/Cities to convey this Central Assistance for other slums being redeveloped. States/Cities give extra FSI/FAR or TDR to make projects monetarily reasonable. For slums on privately claimed land, States/Cities give extra FSI/FAR or TDR to land proprietors according to their arrangement. No Central Assistance is acceptable in such a case.
2.Credit Linked Subsidy Scheme (CLSS):
Recipients of Economically Weaker Section (EWS)/Low Income Group (LIG), Middle Income Group (MIG)- I and Middle-Income Group (MIG)- II looking for home loans from Banks, Housing Finance Companies, and other such foundations for acquiring, new development or enhancement* of houses are qualified for a premium sponsorship of 6.5%, 4% and 3% on advance sum up to Rs. 6 Lakh, Rs. 9 Lakh and Rs. 12 Lakh separately. The Ministry has assigned Housing and Urban Development Corporation (HUDCO), National Housing Bank (NHB), and State Bank of India (SBI) as Central Nodal Agencies (CNAs) to channelize this endowment to the recipients through loaning establishments and for checking the advancement. The plan for MIG classification has been broadened up to 31st March 2021.
The CLAP gateway has altogether contributed towards smoothing out cycles under CLSS vertical which has likewise encouraged the Ministry in lessening complaints.
3.Affordable Housing in Partnership (AHP):
Under AHP, Central Assistance of Rs. 1.5 Lakh per EWS house is given by the Government of India. A reasonable housing task can be a blend of houses for various classifications yet it will be qualified for Central Assistance if, at least, 35% of the houses in the venture are for EWS classification. The States/UTs settle on an upper roof on the deal cost of EWS houses with a target to make them reasonable and open to the proposed recipients. State and urban communities additionally expand different concessions, for example, their State share, land at a reasonable cost, stamp obligation exclusion, and so on.
4.Beneficiary-led Individual House Construction/ Enhancement (BLC-N/ BLC-E):
Central Assistance up to Rs. 1.5 lakh per EWS house is given to qualified families having a place with EWS classifications for singular house development/upgrade. The Urban Local Bodies approve the data and building plan put together by the recipient with the goal that responsibility for and different subtleties like monetary status and qualification can be learned. Focal Assistance, alongside State/UT/ULB share, assuming any, is delivered to the financial balances of recipients through Direct Benefit Transfer (DBT) by States/UTs.
Demand drivers for PMAY-U units in India
The PMAY-U subsumes all the past metropolitan housing plans and intends to address the metropolitan housing lack of 20 million by 2022. Up until this point, 4,427 urban areas/towns have been incorporated under the PMAY-U. Interest in housing has just expanded in the most recent decade, driven by positive socioeconomics, expanding urbanization, development in the economy, rise in income, development in the number of family units, rise in the number of first-time home purchasers, and simpler accessibility of home loans.
Documents Required for PMAY–U
It is better to you keep these records helpful while applying for the scheme online or offline.
Evidence of Identity (Aadhaar card, PAN card, citizens' ID)
Evidence of address.
Confirmation of Income (Form 16, financial balance explanation, most recent IT returns.)
Valuation endorsement for the property to be bought.
An agreement expressing that you or your relative doesn't claim any physical house, also called a pucca house, in India.
Arrangement for the development of the structure with the builder
The endorsed plan for the development of the structure.
No Objection Certificate outfitted by a pertinent power or housing society
The report confirming the conditions and nature of the property in concern.
Letter of property assignment.
Receipt of advance installment made for the acquisition of the property, if applicable.
Some other property documents if required.\
How to Check Pradhan Mantri Awas Yojana Urban (PMAY-U) list 2021-2022?
To check whether you have made it to the ultimate list of Pradhan Mantri Awas Yojana Urban (PMAY-U), follow the below-mentioned steps:
Visit the official website of PMAY(U) (https://pmaymis.gov.in/)
Go To the 'Search Beneficiary' option and choose the 'Search by Name' option from the drop-down menu.
Enter the first 3 characters of your name mentioned in the form and click on 'Show'.
Once clicked, the results will show on the screen, check the screen and look out for your name and further details.
If you're also an eligible candidate and need to avail yourself of the advantage of this scheme, then you need to collect all the required information before filling the PM Awas Yojana application form.
Major Barriers Affecting PMAY-U
Limited accessibility of land in metropolitan territories.
High unit cost, particularly in regions like the Mumbai Metropolitan Region and Delhi.
Dull reaction from private Developers.
The increasing cost of crude materials.
Operational difficulties that make it hard for monetary organizations to furnish the advantages to those with poor/no financial record, irregular and informal income sources.
Also Read: Home Loan EMI Calculator: Know Your Home Loan EMI
Share this article on WhatsApp