Home » Articles » Complete Home Loan Guide For Buying A Home In India 2023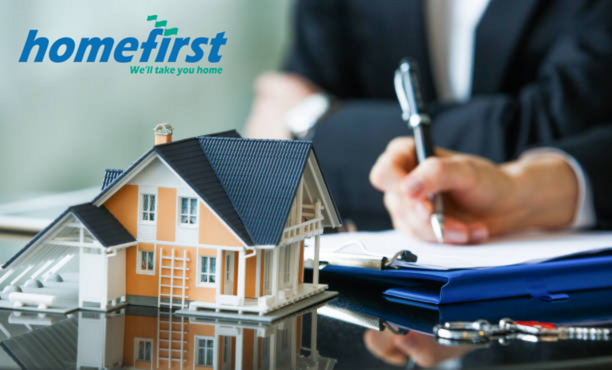 One of our largest assets, both financially and emotionally, is a home. Property prices often increase in value over the long run, which contributes to our long-term wealth growth. If you need financial support to purchase a home, you may pick a home loan to help you realize your dream of home ownership with manageable monthly payments and the flexibility to choose a loan term that works for you.
This article is your step-by-step manual for applying for a house loan so that you may benefit from the quicker and more efficient home loan procedure that Home First Finance Company provides to new home loan buyers.
What Is Home Loan
As the name suggests, a home loan is the amount of money an individual borrow from banks or other financial institutions after meeting certain loan eligibility criteria to purchase a residential or commercial property. The money borrowed has to be paid back to the lender in easy monthly installments (EMI) at a particular rate of interest. There are many banks and financial institutions that offer loans to help you buy or construct your dream home. Loans are also available for renovation or extension purposes.
The property may be personal or commercial. If the borrower fails to repay the loan amount, the lender can legally recover the outstanding amount by selling the property that was offered as collateral security.
Benefits of Home Loan
A house is more than just four walls and a roof over one's head to provide protection from the elements. A home is made up of aspirations and desires; it is a structure composed of bricks and beams. Everyone wants their own personal refuge of safety.
Let's examine the top 10 advantages of getting a home loan.
Together with the sense of success that comes with timely loan repayment, having your own house allows you to live securely and quietly with your family.
The Indian government offers tax breaks for mortgage loans. Under Section 80C and Section 24B, respectively, an individual may receive a tax credit of up to Rs. 1.5 lakhs and Rs. 2 lakhs. Homes that are still being built are not eligible for these discounts.
Regularly paying off your EMIs raises your credit score, which expands your eligibility for a house loan should you ever decide to purchase a second property. You are also more likely to qualify for loans for education, health care, etc. if you have a strong track record of prepaying your mortgage.
Long-term home loans are available with both fixed and adjustable interest rates. You will probably gain from declining ROIs at some point in your cycle if home loan interest rates are floating.
A growing asset is real estate. You may purchase a home today that is sure to increase in value tomorrow by taking out a mortgage. Residential real estate will continue to be a rewarding business due to India's young population and growing desire to own a house.
If you have access to liquid assets, it is wiser and better to invest in them or hold onto them. The unpredictable nature of life regularly causes our plans to fall through. If you spend all of your available cash on a house at once, you can later face a liquidity difficulty. With only a fraction of your income going towards mortgage payments, you can keep your liquidity thanks to house loans.
If you are currently renting an apartment, you are probably aware of its problems. If you don't need to move regularly, getting a home loan and buying a house can be the best course of action. You'll be able to live freely and design your home as you choose, and you'll also be able to create enough space for each of your children to have a separate room.
If a lender offers you a lower ROI when it comes to house financing, you can move your loan to another one. You can refinance your loan with a different lender that offers cheaper home loan interest rates and better customer care if you are not satisfied with the Return on your mortgage at the moment or your financial institution has bad customer service.
The only loans that provide a payback period of up to 30 years are home loans. By extending the duration, you can lessen the burden of your EMIs. To determine how your EMI will vary with the change in tenure, use a straightforward online tool like the home loan EMI calculator.
8 Steps For New Home Buyers
Step 1: Research and Budget:
Every purchasing a property guide should start by discussing your available budget. You require a planned and self-determined budget in order to be able to easily manage your short-term and long-term spending. Prior to starting your search for a new house, it's critical to establish your budget. This will guarantee that the demands of your family are not negatively impacted by the entire home-buying process.
Step 2: Decide where to buy your new home:
Before deciding on a house, you need to know the location. Location is a very important factor when looking for a new home. Home buying guides always recommend choosing a location close to places such as supermarkets, police stations, trains and airports, schools, and hospitals.
Step 3: Nearby rental prices:
When choosing where to purchase your new house, investigate rental pricing if you intend to invest in buying a new home and renting it out. Even if you don't have any immediate investing goals, it's wise to keep this in mind for unforeseen circumstances and future usage.
Step 4: Property Resale Price:
When purchasing a new house, the resale value of the property is also a crucial consideration. One typical error made by purchasers is failing to take resale value into account. You may obtain a good notion of how things can change in the future or in an emergency by keeping an eye on the houses you like and the resale prices nearby.
Step 5: Mortgage Eligibility:
Your ability to obtain a mortgage is one of the factors to take into account when purchasing a new property. Creditworthiness is based on a number of characteristics, including income, debt load, and repayment capacity. While shopping for a new house, it's critical to keep this in mind.
Step 6: Registration fee and stamp duty:
Your ability to obtain a mortgage is one of the factors to take into account when purchasing a new property. Creditworthiness is based on a number of characteristics, including income, debt load, and repayment capacity. While shopping for a new house, it's critical to keep this in mind.
Step 7: Additional cost:
All house purchasing guidelines caution readers about the possibility of unanticipated expenditures. You should speak to the locals before purchasing a new house to learn about maintenance charges, if there is a garage for parking your car, and other details. Even with a professional's assistance, you can figure all of this out.
Step 8: Property insurance:
You should consider a number of insurance options for your new house. To choose the option that is best for you and your family, carefully consider the many types of coverage that property or house insurance offers.