Home » Articles » How Home Loan Calculator Makes Financial Planning Easy?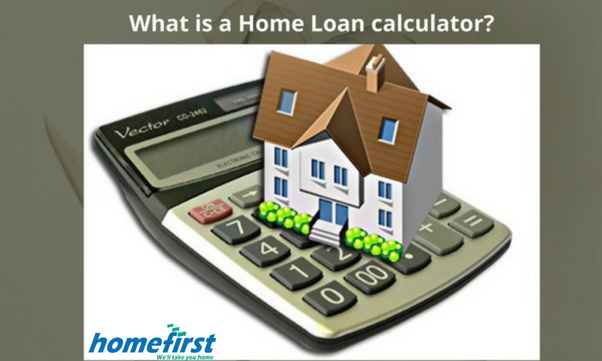 A home loan allows borrowers to realize their dream of owning a home. As a result, borrowers must plan ahead of time for EMI repayment. A home loan calculator is the most convenient way to calculate EMI payments. It is a simulation that helps borrowers calculate their EMI, total interest component, and total payable amount.
The calculator assists borrowers by forecasting a tentative repayment schedule and providing more information about their home loan obligation. Furthermore, it enables borrowers to narrow their search for the best loan option.
What is Home Loan Calculator?
It is an online tool that can assist borrowers in determining their repayment period based on their financial ability. This virtual calculator is available on the websites of the majority of lending institutions. It assists customers in determining the appropriate repayment period and loan amount.
If the calculated EMI amount is not within a borrower's affordable range, he or she can reduce the loan amount or increase the tenure. This will lower the monthly payment. An extended tenure, on the other hand, raises the total cost of the loan because interest must be paid for a longer period of time.
Features of Home Loan Calculator?
It provides an accurate breakdown of financial charges
It saves you the trouble of performing manual calculations.
Compare different lenders' home loan rates.
Make financial plans.
You can keep track of your other loans.
Benefits of Loan Calculator
Simple procedure: Simply enter the loan amount, interest rate, processing fee (if applicable), and tenure. There will be no complicated calculations or difficult mathematics. The home loan emi calculator will handle the actual calculation.
Get a breakdown of the finance charges: This tool assists you in understanding the financial charges associated with your EMI, such as total interest payable and processing fee value. Because they are presented as a percentage of the loan amount by banks and financial institutions, knowing the actual value can help you understand the true cost of the loan.
Comparing loan offers: The home loan calculator can be used to compare loan offers from various banks. The results will show you the total cost of each loan as well as their EMIs. This will assist you in determining the most viable option.
Choosing the right loan tenure: Knowing your EMI from a loan calculator can also help you choose the right loan tenure. If you can afford a higher EMI, you can choose a shorter loan term and pay off your loan as soon as possible. Otherwise, you can pay a lower EMI and extend the term of your loan.
Assisted in information validation: If you are negotiating a home loan with a bank, you can verify the repayment schedule it provides. The repayment table details provided by the calculator can assist you in verifying this. Keep in mind that the figures may occasionally differ. This is due to the fact that lenders may include additional fees and charges in your EMI calculation.
Facilitates in loan management: You may have some extra funds to make prepayments while paying your EMIs. If you want to go over the numbers again and see how prepayments can help you pay off the loan before the term is up, the home loan EMI calculator can help.
How Loan Calculator Works?
A loan EMI calculator employs the following mathematical formula to calculate the EMI payouts required to repay the loan amount.
[P x R x (1+R)N]/[(1+R)N-1] = EMI
P is the principal amount.
N denotes the loan term.
R denotes the interest rate on a home loan.
While the formula appears straightforward, manual calculations are more prone to errors, especially when dealing with large numbers and complex variables. To avoid such hassles, use a home loan calculator as described below:
Enter the amount of your desired home loan.
Choose the tenor you want.
Choose the home loan interest rate you want.
The following steps will assist borrowers in using a home loan EMI calculator:
Step 1: Go to the preferred financial institution's official website and access the home loan EMI calculator.
Step 2: Input the loan amount. The amount can also be set using the slider.
Step 3: In the next box, enter the interest rate charged by the respective lender.
Step 4: Enter the appropriate loan term.
After entering the three variables, the calculator will quickly display the EMI amount, total interest outgo, and total loan amount.
How Can a Loan Calculator Makes Financial Planning Easy?
It produces results in seconds.
Manually calculating EMIs is not only an error-prone task, but it also takes time and effort. For quick and error-free calculations, use an online EMI calculator. The calculator will return results in seconds. Furthermore, because the calculator is fast, you can try as many permutations and combinations as you want to find an EMI that works best for you.
It allows you to map out your home loan journey.
The EMI calculator will calculate your monthly EMIs after you enter your desired loan amount and tenor. Aside from calculating monthly EMIs, the calculator will also provide you with a breakdown of your loan value. It will tell you what percentage of your EMI will go toward principal repayment and what percentage will go toward interest repayment, and how this will change depending on the tenor.
It can be used to plan repayments.
Part-payments are your only option if you want to close your loan as soon as possible. If you have extra funds during the loan term, consider part-payment to reduce the loan balance. Use a home loan calculator to see how a partial prepayment affects the loan term.
Use it to find the best deal for you.
If you want to get a loan, you should talk to several lenders and see what they have to offer. When you have all of the loan offers in hand, use the loan calculator to compare them. The calculator will calculate the total cost of each loan offer as well as the EMI for each loan. Having this information on hand will allow you to make an informed decision about which loan offer is best for you.
Conclusion
Borrowers' financial management is aided by online tools such as a home loan EMI calculator. It provides insight into loan repayment and assists in locating a suitable deal that meets an individual's credit needs.
Share this article on WhatsApp
Also read: