Home » Articles » Types of Loans Available With HomeFirst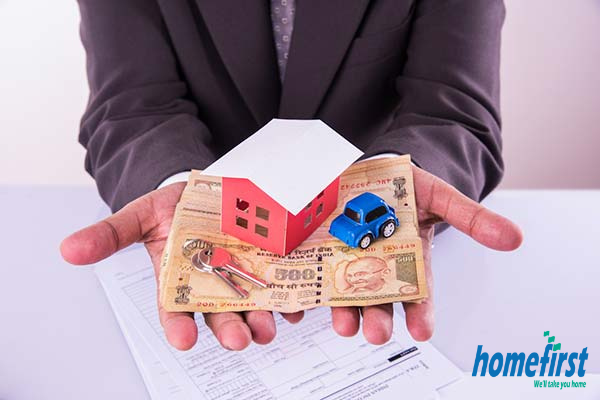 All loans aren't the same. If the borrower has to get cash, first, he will need to choose which sort of loan is right for his needs.
HomeFirst Finance Company has a wide variety of products available to our customers, depending on their unique circumstances. In this article, we cover each of them in brief.
Loans for home purchase (from our approved developers)
This is the most common type of loan and it's as easy as a pie. We are not blowing our own trumpets here, but with us, you can get a loan approved within 24 hours. Just a few clicks or a couple of taps on your smartphone, and you are all set to experience the best service you've ever had with a financial institution. Loans can be up to 90% of the property value and tenure can be as long as 25 years. You can also avail of a loan with joint borrowers, depending upon you and your co-borrowers' eligibility.
Home construction loans
This is our current favorite. Imagine you own or have inherited a plot of land and wish to construct a house on it. The home construction loan is the ideal choice for you. We are here to make your loan application process a smooth ride for you. We will scrutinize property-related documents, along with your own credentials, and there you have it; soon standing on your own plot and watching your dream home come up.
Home improvement, renovation and expansion loans
You are looking at the specialist here. Your house badly needs a repair, or you are adding a new balcony. Maybe you are getting married and need to expand your home for your growing family. For any alteration work, like a new floor or just a bathroom, our home improvement and expansion loan are there for you. We finance 80-85% of the total repair cost.
Balance transfer loans
If for any reason, you are unhappy with the services of your current lender, we would be more than happy to get you on-board. Whether it is interest rates, loan tenure, or any other related issues, we guarantee nothing but the best service. As per RBI guidelines, closure charges are done away with. So, why trudge along when you can run?
NRI home loans
These loans are specifically designed for the benefit of non-resident Indians. They boast a quick and easy process, which is carried out entirely online. The hassle-free paperwork, an array of pre-payment options, and the maximum loan tenure make us a perfect fit to service an NRI customer.
Shop loans
Some residential complexes have dedicated areas to build shopping complexes or small shops. We finance these sorts of establishments. It's a pretty good investment for small business owners who often look for expansion.
Share this article on WhatsApp.
Also read: