Home » Articles » Types of Loans Available With HomeFirst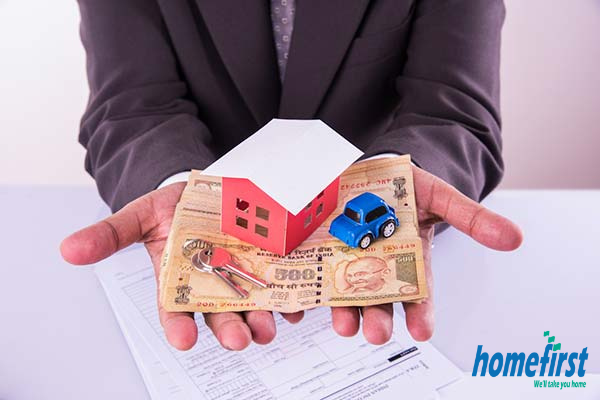 Home Loans- All you need to know 
Having a place of your own to call home has always been a top goal for you. Isn't it? Well, what if we can say your priority can soon be a reality. You can always get your dream home within your budget because home loans or house loans are there to your rescue. And wait, with Home First, you can not just get a loan for buying a home but also constructing home on your own plot, renovation and extension of existing structure and so on. Well, good news is HomeFirst finances loans for all Indians and NRIs home loans.
Check out home loan details available in India, especially with HomeFirst 
Home Loan/ Flat Loan/ House Loan
The most common of all home loan types to purchase a home or a flat. We finance these loans where you can borrow money to buy a home of your choice. With HomeFirst, you can get these loans approved in just 48 hours. With HomeFirst, you can put up a home loan application online and get a seamless digitized experience. You can get up to 90% of the market value of your home and tenure can be as long as 25 years. 
If you already own a piece of land and you want to build a home on that land, but you need money to pay for the building of the house, a construction loan might be right for you. This is currently our most preferred option. HomeFirst provides you with the option to get up to 80-85% of the amount funded. You also have the option of applying for construction loans online. Submit an online application for a construction loan, and after we have reviewed the paperwork relating to the property, we will get back to you with some good news.
Home renovation, expansion and extension Loan
Wanna add an extra room or floor to your existing home or renovate it with going trends. These home loans help you to accommodate your growing needs. HomeFirst is again there for you! We provide you a loan with an amount as small as 5 lakhs. 
They are often called BT loans. If you are in any way unhappy with your current lender's service, you can always switch to us and we will be more than happy to serve you. We promise to serve you the best possible interest rates, loan tenure, and easy switching. HomeFirst can also add an extra amount to your existing loan in case of need or if the property value has increased and further cases.
If you want a loan for shop purchase or shop expansion, HomeFirst finances these commercial loans for small business persons to either start or expand your business. 
Advantages of Home Loan
Income Tax Benefit on Home Loan
The most important benefit of a home loan is income tax deductions. The government has different sections under the Income Tax, where they provide deductions.
| | |
| --- | --- |
| Income Tax Amount | Maximum Deductible Amount |
| Section 24 | ₹2 lakhs per annum (interest repayment) |
| Section 80C | ₹1.5 lakhs per annum (on principal repayment) |
| Section 80EE | ₹50 thousand per annum |
HomeFirst normally does not impose prepayment fees if you decide to pay off your loan before the agreed-upon duration, which is another benefit of a home loan or construction loan. 
In fact, we have an option of auto prepayment which helps you pay off your loan according to your customisation. You can also have a look at our Home Loan EMI calculator. 
Flexible Interest Rates and Tenure
HomeFirst provides you with the option to choose the tenure of the home loan and accordingly the interest rates are determined. The interest rates depend on a number of factors like the amount and tenure of the loan, credit risk associated with it and so on. Accordingly, your interest rate will be proposed to you.  
If you are looking for home loans, flat loans, construction loans, shop loans, commercial loans or any kind of housing loans, HomeFirst is there for you. This guide to home loan is there to familiarize you with all the basic terms and advantages associated with loans. With us, you can experience a fully digitized experience from loan application to closure. Apply for the same through the link here and contact us on our toll-free number – 08880649911 for any kind of assistance. In case of offline – assistance, find the nearest branch here.
Share this article on WhatsApp.
Also read: