Sunday is my favorite day of the week. I love Sundays. I just love to sit and read a newspaper, have tea, take afternoon naps, watch some TV, and have hot home-made food. One Sunday makes all the other days of the week bearable. But just one thing always manages to irritate me even on such fine days. That is the boring work of paying bills. Every Sunday there is always some bill or the other to pay. Electricity bill, water bill, gas bill, and often even the monthly home loan EMI gets added to the mix. But your interest payment thankfully you can actually adjust and that is what I will tell you today.
So don't let your Sundays become boring. Here are some clever tips to reduce the interest payment of your loan:
1. Choose a lower tenure – The logic is simple. The longer you pay a loan, the more is the amount of interest. While a lesser EMI over a longer time period might cost you less money per month, it will also go on for very long leading you to be stuck paying EMIs for a frustratingly long period. Even if you have less money at the beginning, consider increasing your EMI and reducing tenure 2-3 yrs into the loan as your financial position would have improved significantly by then. Even an increase of Rs. 1000 can help you a lot in paying back your loan faster and with lesser interest.
2. Higher down payment – A down payment is the first payment made when you buy a house. It is part of the price you pay yourself. The higher your down payment is the lower your loan amount will be, and the lower your interest. It signifies a strong financial standing which makes the loaner believe in your paying capacity. The bigger the down payment you make, the lesser amount you need to borrow so the interest charge will be less. Also, since the lender now has confidence in you your interest rate is also likely to be lower as well.
3. Make regular prepayments – Your EMI i.e. installment can be broken down into two parts, the interest you pay on the amount loaned and the amount itself. During the initial months of your loan payment, your EMI consists more of interest and less of the amount loaned. However, making a prepayment during this time can go a long way in decreasing your future payments. Prepayment is when you pay more than the EMI due for the month. It reduces the actual amount you need to pay your lender and thereby removing any future interest being due on that. It ensures that your loan gets over even sooner than the planned tenure. So, you end up paying much less interest since you pay the loan back much earlier.
4. Auto Prepay – One way to ensure you make prepayments in every installment is to choose auto to prepay. Auto prepay automatically makes EMI and pre-payment from your selected account at the end of every cycle so that you never miss on paying an EMI and repay your loan as soon as you can. Some lenders like HomeFirst Finance even have a no pre-payment charge policy helping you pay your loan well in time. So, essentially all that tension of taking out time to pay EMI every time is effectively ended.
Click here to see our EMI Calculator as shown below and how much you can save with Auto Prepay https://homefirstindia.com/home-loan-prepayment-calculator/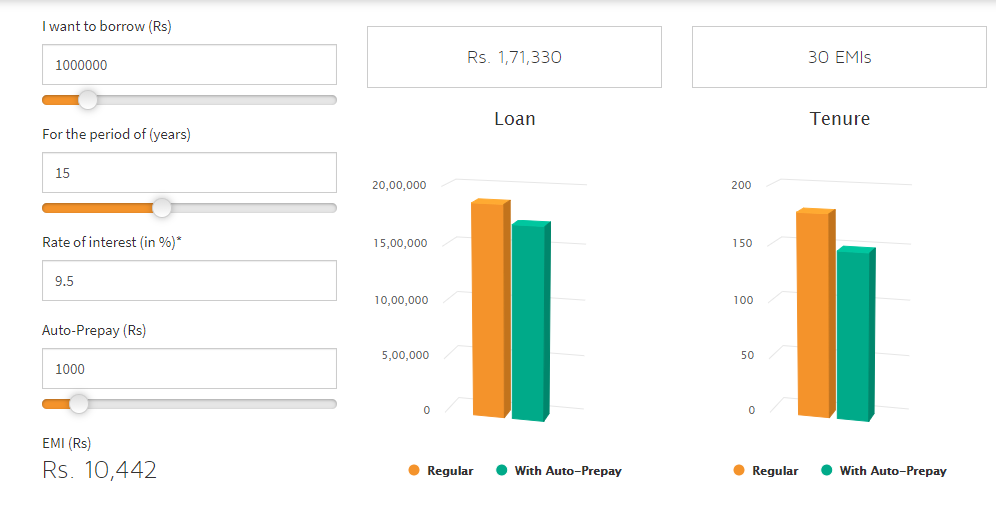 So, use our clever life hacks and spend your future Sundays without the stress of EMI. Pay all your bills through your phone and save not just trees but also your valuable time. HomeFirst is one of the few lenders with video KYC option. You can complete the entire loan procedure by sipping tea comfortably in your chair at your house plans for your dream house. Don't worry about anything. We will take you home.