All You Need To Know About RERA
RERA isn't the latest acronym to hit the Internet, meaning something ridiculous or rude. Nope! It is about bringing a positive change into the real estate industry. Especially if you are planning to buy a new home or invest in a new property this is worth your time and it should not take you more than 5 minutes!
Spoiler alert – This is going to be a little technical read and not a very entertaining one! 
What is RERA?
RERA is the Real Estate Regulation and Development Act, intended to protect home buyers rights within the development community. It came into effect in May 2017 and has since been slowly coming into play across the country. Each state is supposed to notify their own rules, based on the guidelines of the Act, and one year on, this is still a work in progress at a fast pace with Maharashtra leading the pack. They have already done the work and has set up permanent regulators. The others are catching up things are surely picking up speed.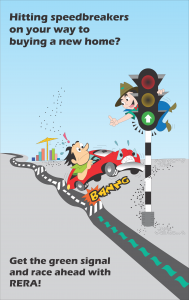 Now, the Top 10 things you need to know about RERA
I. If a developer makes changes to the project, you need to be informed about it in advance. If there are major changes to the project overall, like to the public areas, two-thirds of the allottees must provide prior written consent before they can carry out these changes.
II. All projects should be registered with RERA, even those that are in the construction phase and before they start promoting the project.
III. You will have a lot of relevant information as a buyer at disposal like: project plans, layouts, government approvals, land title status, and information about subcontractors. You are entitled to have timelines for completion too. Developers and promoters can use promotional material to talk about their projects, and you can now trust that all the features they advertise are part of the project. Their advertising campaigns are supposed to contain clear and comprehensive information about their projects.
IV. More projects delivered on time! Developers have to stick to their committed timelines for project completion and delivery.
V. Promoters are required to provide RERA with regular progress updates, and home buyers can follow these updates on the RERA portal.
VI. Standardized agreements will be signed between all parties, aiming to balance out responsibilities for both parties in the transaction.
VII. Buying decisions would be faster. Processes would be more transparent, and it will become a lot easier for the   Home Buyer post RERA. Home Loans will be more accessible.
VIII. Lenders would be more confident in approving projects. APFs will come faster and the cash flow of the developers will be smoother.
IX. By appointing a regulatory body to oversee both Home buyers and Developers both will have more accountability and Real Estate as an industry will become more organized.
X. RERA will also help in handling any disputes with respect to the project. Home buyers and Developers will now have some governing body to look up to.
Here's hoping RERA comes through soon in all the states!