Home » Articles » Difference Between Home Loan and Home Construction Loan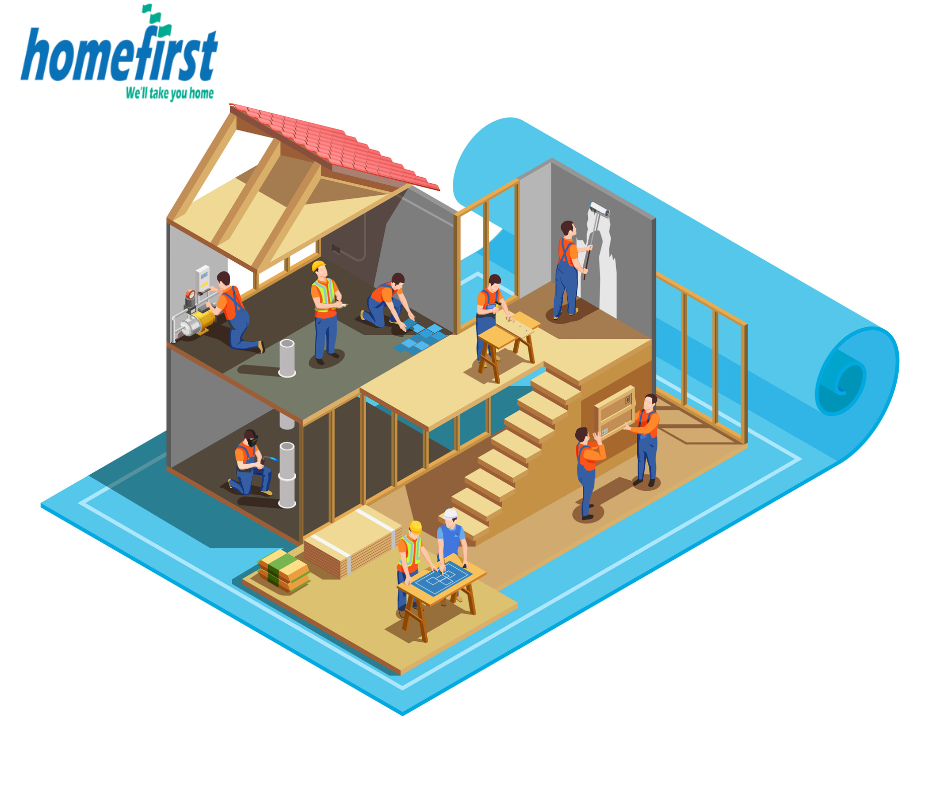 The ultimate and universal desire of all families in India is to live in their dream home. However, with real-estate prices skyrocketing, it's nearly impossible for individuals to pay for a residential property out of pocket. Banks and non-banking finance companies offer two types of loan products to help people realize their property dreams: home loans and home construction loans. Both of these loans provide substantial financial assistance to people looking to buy a home.
But what is the major difference between the two loan types? What are the features, eligibility requirements, and loan categories to consider? This article answers all of these questions and more. Let's get this party started.
Home Loans vs. Construction Loans – A Comparison
Today, it is relatively simple to become a homeowner. Whatever type of home you want to buy, you can get the necessary funds by taking out a home loan. Banks and housing finance companies provide a variety of home loans. Whether you want to buy a ready-to-move-in flat, an under-construction property, build a home on a plot of land, or renovate your current home, you can find the right home loan to meet your needs. Having said that, most borrowers get confused between a home loan and a home construction loan. Although the two appear to be similar, there are several differences that borrowers must consider when selecting the right type of home loan.
Let's begin by understanding the definitions of the two types of loans
What is Home Loan?
A home loan is essentially an agreement between you and the lender to borrow a specific amount of money in order to purchase a home. You agree to repay the loan plus interest over a set period of time agreed upon by you and the lender. Depending on the lender, you can choose between a fixed-rate mortgage and an adjustable-rate mortgage. A home loan also provides you with tax benefits under Section 80C of the Income Tax Act on your principal component. You can also take advantage of tax breaks on your interest payments under Section 24(b) of the Income Tax Act.
What is Home Construction Loan?
A home construction loan is one in which the lender offers to pay for the cost of constructing a new home. You could either build your home on new land or build a portion of your home on your existing property. This home construction loan will be available at a fixed interest rate for a set period of time. You can customize the term of your construction loan based on your financial ability to repay. Your loan is secured because the property is mortgaged. There are numerous types of construction loans, including the following:
Loan for Construction-to-Permanent 
These loans are also known as one-close loans. They provide the funds needed to construct your permanent mortgage as well as your home mortgage.
Loan for Construction Only
You can get the funds you need to finish building your home with this loan.
Loan for Home Improvement
If you want to improve your current home, you can get a renovation loan.
Construction Loan for Homeowners
This is a construction-only or construction-to-permanent loan in which the bank also acts as the home builder.
Home construction loans, like home loans, have tax advantages. You can claim benefits on your principal and interest under Sections 80C and 24(b) of the Income Tax Act, respectively.
Home Loans Vs. Home Construction Loans
Now that you've learned the definitions of home loans and home construction loans, it's time to dig deeper to understand the differences between them. The following table compares the two types of loans based on various parameters.
Loan Application Procedure
The first distinction between a home loan and a home construction loan is the loan application process.
When it comes to a standard home loan, you can apply for it either offline or online. The application process for a home loan is simple. Simply go to the lender's website or physical location and fill out a home loan application form. The lender will verify the property and transfer the loan amount directly to the builder or seller.
However, if you want to apply for a home construction loan, the procedure is a little more complicated. You must first determine whether a lender is offering a home construction loan and, if so, what the eligibility criteria are. Home construction loans are typically not available online because they require extensive documentation and paperwork.
Criteria for Eligibility and Documentation
The second distinction between a home loan and a home construction loan is their eligibility requirements and documentation requirements.
Lenders typically provide home loans with simple eligibility requirements and minimal documentation. All you have to do is meet some basic requirements such as age, monthly income, credit score, and so on, as well as submit a few simple documents such as your PAN card, Aadhar card, and bank statements. Even if you are in the economically disadvantaged category, you can obtain a home loan (EWS).
The eligibility criteria and documentation for home construction loans, on the other hand, are strict and time-consuming. A home construction loan is only available if you own a plot of land or a housing property and want to build a new house.
Documents required for a home construction loan include the Municipal Corporation's legal authorization documents, a construction design from an architect or civil engineer, a blueprint of your construction, and tax submission documents, among others.
The Rate of Interest
The interest rates charged by lenders are the third distinction between a home loan and a home construction loan.
The first thing to keep in mind is that not all lenders offer home construction loans. And those that do typically charge a higher interest rate. Interest rates on home construction loans typically range between 10% and 14% per year.
Home loan interest rates, on the other hand, are very low and competitive. In India, almost all banks and non-banking financial companies (NBFCs) offer home loans. Another reason is the government's Pradhan Mantri Awas Yojana (PMAY) scheme, which makes home loans very affordable. The annual interest rate on a home loan can range between 6% and 10%.
The Loan's Duration
The fourth and final distinction between these two types of loans is their loan tenure. Home loans are typically high-value loans because they are used to purchase real estate. As a result, home loans can have terms of up to 30 years.
Home construction loans, on the other hand, are available for a shorter period of time than home loans. Home construction loans typically have terms ranging from 7 to 15 years.
The Similarities between Home Loans and Home Construction Loans 
Though the purpose and objective of these loan products differ, there are some similarities. Lenders follow a similar loan sanction process whether you apply for a home loan or a home construction loan. Furthermore, the repayment options and co-applicant rules are the same for both.
Conclusion:
As you may have guessed, there should be no confusion in deciding between a Home Loan and a Home Construction Loan because they serve different purposes. The Home Loan is ideal if you intend to purchase a built property or a property that is still under construction from a builder. If, on the other hand, you intend to build your own home, you should go with a Home Construction Loan. Whatever option you choose, it is recommended that you conduct extensive research and compare various banks and NBFCs before settling on a lender.
Share this article on WhatsApp
Also read: