Home » Articles » Everything You Need To Know About Home Construction Loans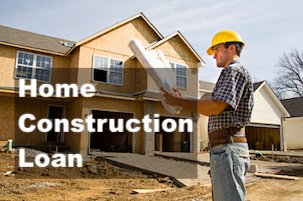 If you have planned to build your own home instead of buying a new house, the experience will surely be more wonderful and fun. However, this would require you to apply for a home construction loan which comes with its own set of procedures.
Here's a detailed guide that explains what a home construction loan is, the types of home construction loans, the process of getting one, and the advantages of taking a home construction loan.
What is a Home Construction Loan?
A Home Construction Loan is a type of Home Loan where you can get a loan for building your own home instead of purchasing a flat. As the work progresses, the lender pays out the money in stages. If you wish to apply for a home construction loan, you have to provide the lender with a detailed construction timetable, construction plan & a realistic budget for construction.
After a construction loan is approved, your loan amount would be disbursed in stages as per the demand of each construction stage. The lender would inspect the site during the construction work or might ask a third-party technical team to visit and check the same.
What are the types of Home Construction Loans?
There are 3 types from which a borrower can choose. Below are the types –
Self-Construction Loan
If you have purchased a plot or you already have a plot in your name, and you need funds to construct a home then you can opt for a self-construction loan.
Plot + construction loan (P+C loan)
If you don't have a plot in your name and you require funds to purchase the plot as well as for constructing a home on it, then a Plot + Construction loan would be the best-suited product for you. Please note that if you need funds only to purchase a plot and not for building a home, then you would have to apply for a loan against property / personal loan as it would not be considered as a home construction loan.
Home Extension / Renovation Loan
You can avail of a home extension loan if you need funds to build an extra floor or add a new room to your existing home. Similarly, a home renovation loan can be availed if you are looking to carry out major repair works in your home, repaint your home, or simply give your house a fresh look.
How to get a home construction loan?
Here are 5 tips that will help you get your loans approved faster:
Higher the credit score, the higher the chances of getting your loan approved. Your credit score reflects your creditworthiness as it has a complete record of all the loans taken you have taken/applied for to date, past repayment track record, past payment defaults (if any). So ensure that you maintain a clean repayment record as each default has a negative effect on your credit score.
Apply for a home construction loan according to your eligibility. The lender will determine your loan eligibility based on your income and repayment capacity. Ideally, your EMI amount should not exceed 50% of your monthly income. Calculate your home loan eligibility and EMI before you apply for a home loan.
Keep your property documents and construction budget handy. The lender needs to have a detailed understanding of the property, the size of the house, the resources to be utilized in the construction, and the name and details of the contractor who would be working on the project.
Collaborate with reputed contractors for the construction of your house. This will build more confidence with the lender which will act as a plus point in your favor when your application is processed.
Keep some room for extra costs. There can be some unforeseen costs in your journey to build your own home. For example, the cost of some raw materials like steel or cement or sand could go up during the construction period. For this reason, you need to assure the bank that you have enough savings to manage the same.
Why go for a Home Construction Loan?
Freedom to build your house just as you dreamt it.
Unlike taking a loan for purchasing a flat, a construction loan gives you complete freedom to build your home according to your preferences like construction material, structure, color, and design of the house, etc.
You don't need to pay interest on the entire amount from day 1
A home construction loan is disbursed as per the construction stage. Thus, you will have to pay interest only on the amount that has been disbursed to you.
You are free to rebuild, renovate, or extend your house in the future.
If you feel that there is a need to renovate your house or add a new floor or a room, you can easily take a home renovation loan and make changes in your house according to your comfort level.
Summarizing…
A home construction loan can be taken to build, renovate, or extend your existing home.
Maintain a good credit score, collaborate with reputed contractors, and be organized with your property documents and construction plan to increase your chances to get your home construction loan approved faster.
A better option if you want to build your own home as per your preferences.
Share on WhatsApp.
Also read: