Home » Articles » Home Loan Balance Transfer – Points To Remember
Also, read this article in हिंदी, मराठी, తెలుగు, தமிழ், ગુજરાતી, and ಕನ್ನಡ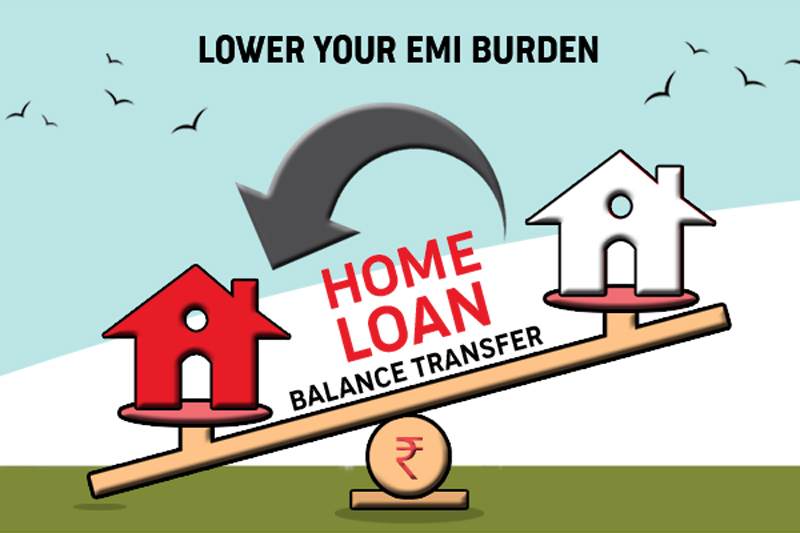 A home loan balance transfer is taken into account by borrowers once they wish to go for a far better deal at an alternate bank for the advantage of a cheaper rate of interest with no prepayment penalties or other offers. On switching a loan, the loan balance with the previous lender is paid fully by the new lender. The borrower then starts paying the EMIs (Equal Monthly Instalments) to the new bank. It is sensible for a borrower to modify loans with a long repayment tenure sort of a home loan because it helps them save more. The extent of savings will depend upon the outstanding amount, tenure, difference in interest rates, and charges of switching loans.
Here is a few important points guide you should consider to opt for Home Loan Balance Transfer:
Interest Rate Negotiation:

Before you decide for a home loan balance transfer, try negotiating together with your existing lender for a lower rate of interest. If you've got a loyal association together with your bank and have paid all EMIs on time, your lender may consider your request to watch your credit history and loan repayment capacity. This way you'll lower your EMI burden without having to pay prepayment, transfer, foreclosure charges, processing fees, application fees, and administration charges.

Check the interest rate credentials of new lenders:

If the new lender is advertising a lower rate of interest, it's essential to urge more information on their interest record. Check if the rate of interest offered by the bank is real and not a short-term gimmick.

Calculate the Cost of Transfer of Loan:

Transferring your home loan involves several charges like processing fees, application fees, inspection charges, administrative charges, and more. In most cases, banks charge transfer fees which can be charged by both existing also because of the new lender. Calculate if the entire costs involved in your transfer are but the interest amount that you simply will save by making the transfer or not. If not, you ought to look out for an additional lender or settle with the present one.

Check Your Credit Rating:

Your credit score gives you a transparent indication of whether you're eligible for a balance transfer or not. If you have been inconsistent in repaying credit, EMI on time, it'll hamper your credit rating. A poor credit score means you're less qualified for home loan balance transfer facility since the new lender will take under consideration your credit score alongside the opposite factors confirm that you simply pay all of your credit card bills, EMIs on time to make sure that your credit score is high and you've got no problem transferring your loan to a different bank.

Balance Transfer Charge:

Before going for a home loan balance transfer, you want to remember that you simply shouldn't transfer your home loan whenever you come upon a lower rate of interest because there are charges involved. The home loan balance transfer process involves several charges like processing fees, application fees, administration charges, inspection fees, among others. There'll be some charges which can be charged by both your existing bank and therefore the new lender. Calculate if the value of a balance transfer and evaluate whether it's but your interest amount. After proper calculation, you'll know whether the transfer is worth paying all the fees. You'll use any home loan balance transfer calculator to estimate what proportion the method will cost you.

Repo Linked Loan:

A Repo Rate-Linked Lending Rate (RLLR) Loan is linked to the reserve bank of India's repo rate. If the RBI lowers the repo rate, banks that provide the RLLR-based loan also lower the rate of interest. During this case, the house loan rate of interest of the bank will move up or down supported the repo rate movements. These loans ensure transparency among borrowers as they're benefitted whenever RBI decreases the speed. Repo rate cut will have a positive impact on homebuyers because it lowers the rate of interest on the house loan. This, in turn, will reduce your EMI burden. So as to supply some relief to people, RBI in recent times has cut the repo rate which suggests your EMI will go down without having to shift the loan to a different lender.

Go Through the Terms & Conditions Carefully:

It is crucial to remember that when you transfer your home loan to a replacement lender, you'll be sure to their terms and conditions. While a lower rate of interest could seem tempting, it's also essential to remember all the conditions related to your loan. This might include information about certain hidden charges also. Therefore, you want to read all the terms and conditions thoroughly to measure what proportion you'll benefit by transferring your home loan.

Steps for Home Loan Balance Transfer:

Follow these simple steps to go for Home Loan Transfer
Close the deal with your existing bank: Before beginning with the Balance Transfer process, it's necessary for you to urge approval from the prevailing lender by sending a letter to your existing lender requesting home loan transfer. Once confirmed, you'll get a No Objection Certificate (NOC) alongside the loan statement mentioning the outstanding amount.
Provide NOC to the new lender: Give the NOC (No Objection Certificate) to your new lender to urge approval on the loan amount.
Transfer documents: After the completion of the transaction, your property documents are going to be handed over to the new lender. The leftover post-dated cheques stand canceled. Also, confirm that you simply don't leave any document from being transferred.
At HomeFirst we offer Home Loan transfers for an amount up to ₹ 50 lacs. Please fill this form and our representative will call you regarding an easy home loan transfer.
Share this article on WhatsApp
Also read: