Home » Articles » Home Loan Without Income Proof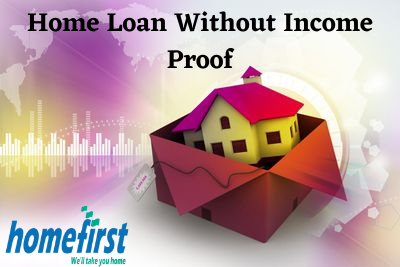 There is great news for first-time home purchasers. Even if you do not have formal income proof, you can now hold the keys to your ideal home. Whether you are a daily wager or work in the informal sector and receive your monthly salary in cash, you can apply for a simple Home Loan from Home First Finance Company.
With housing prices soaring, a minimum standard of living and good living conditions are a major issue in the current scenario. Every human on the earth has a basic need for a place to call "Home." Many people, however, are deprived of this necessity due to a lack of permanent employment and income.
What is "No Income Proof"?
Before we get into the subtleties, it's critical that we first completely comprehend the term "no income evidence."
In developing countries like ours, a sizable portion of the population falls into the LIG (Low-income group) & EWS (Economically Weaker Section) categories, which are frequently disregarded whether it comes to food, healthcare, education, or basic banking. To put a number on it, there are around 15-20 million people who are underbanked, and many of these people do not have verifiable proof of income. That is, they will have some form of revenue, but they will not be able to verify it on paper. This could be due to a variety of causes, such as the fact that they are employed but are paid in cash, or that they run small businesses that are not properly registered. A machine operator in a factory, for example, or an autorickshaw driver are two instances of such profiles. Small merchants and business owners, such as the "Kirana shop" in your mohalla or the "Pani puri wala" you rush to every evening, may not have access to any type of financing, let alone easy home loans. Even though they need payback, they are unaware of the possibilities available to them in the market.
Lack of Income Proof
In India, a sizable chunk of the population falls into the LIG (Low-income group) and EWS (Economically Weaker Section) categories, which are frequently disregarded by our country's basic banking infrastructure. Approximately 15-20 million people are financially excluded because they do not have verified proof of income. This implies that they have an income but lack the means to verify it on paper.
This could occur as a result of several events, including:
Cash Compensation: A person is employed but receives his or her salary in cash. As an example, consider someone who works as a helper at a Kirana store.
Self-Employed: Someone who runs a small business and earns a certain amount of money, but the income is not consistent. As an example, consider the driver of an auto-rickshaw.
Seasonal Income: They are employed for a couple of months in a given year and earn a set sum that will last them the rest of the year. Vendors of firecrackers, for example.
Multiple Smaller Incomes: They work in a variety of informal jobs. As an example, consider a domestic staff who works in a variety of families.
Need for Home Loan for Everyone
Buying a home necessitates big investments because the house becomes the largest asset that a person can have. Such large investments can deplete most people's savings, hence the majority of individuals turn to borrowing money from banks in the form of Home Loans to fulfill their ambition of buying a house. One significant disadvantage of the entire process is that not all segments of society have access to such bank loans.
Myth: Income Documentation is mandatory for a Home Loan Sanction
Even though they are capable of repaying a loan, borrowers are unaware of the market's possibilities. They feel that due to a lack of documentation, they will never be able to obtain a home loan through a traditional bank, which they believe is the only method to obtain financing for the purchase of a property. They are unaware that Affordable Housing Financial Institutions such as Home First Finance Company may assist them and enable them to realize their ambitions.
The myth is that the bank's typical practice comprises gathering numerous documents from the borrower to ensure that they are capable of repaying the money they are borrowing.
Debunking the myth, institutions such as NBFCs (Non-Bank Financial Institutions) are made available to specific segments of society. Such organizations make loans without requiring any proof of income.
'Home Loans without Documents' denotes that the borrower lacks asset, income, or employment verification.
So, how exactly does this mechanism function?
Realistically, it is possible to obtain a home loan without providing proof of income.
This is a reality at HomeFirst. We don't overwhelm the consumer with a huge list of documents or a slew of processes, the majority of which they may not understand. Rather, we visit with customers and listen to their stories, as well as the difficulties they have encountered, to determine their eligibility for a Home Loan.
We do not feel that documentation is the only way to assess our customer's reliability. We do not believe that a pay stub will decide whether or not the consumer will be able to repay the loan. A salary slip is simply a piece of paper that shows how much our customer is paid. However, our financial solution is constructed in such a way that it assists the company in determining the customer's intent and payback capabilities.
At Home First Finance Company, our goal is to assist our customers in realizing their goals of owning a home, as well as to be a part of their journey of acquiring a home and simplifying the process from the time they express their intent and want to acquire a home to the time they settle down in their new home.
Share this article on WhatsApp
Also read: