Home » Articles » Minimum Documents Required for Home Loan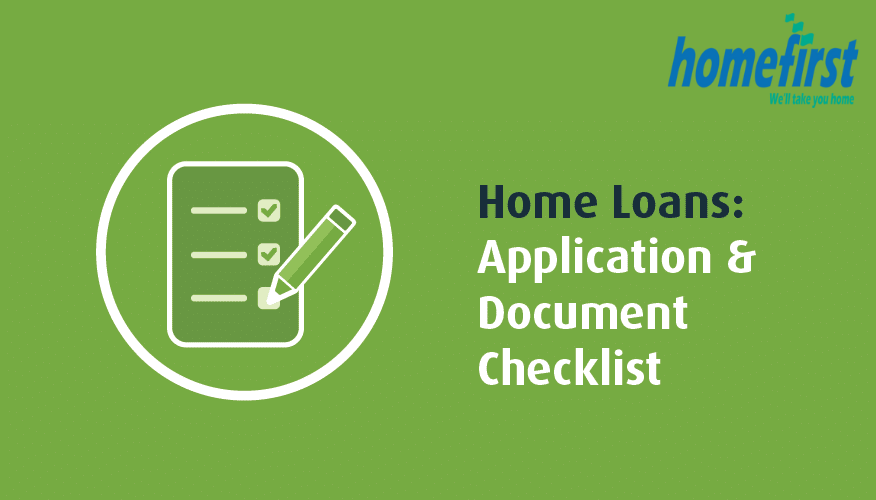 Purchasing a home is likely to be one of life's most significant accomplishments for the majority of Indians. Finding the perfect house and then obtaining a suitable home loan are both critical. People take out home loans for a variety of reasons, not only a lack of funds. There are numerous other advantages to obtaining a home loan. All banks and Housing Finance Companies require the same documents when applying for a home loan (HFCs). However, some particular requirements may differ depending on your home loan type, individual credit profile, and so on. We've compiled a list of some of the most important home loan documents that you'll need to submit during the loan application process.
Understanding Home Loan
A home loan is a specific amount of money borrowed from a financial organization such as a bank or a lending company. To pay off the loan, you pay a certain EMI on a monthly basis. The lender considers the property to be a security. If the borrower is unable to repay the loan, the lending firm has the legal right to collect the loan amount.
Types of Home Loans
A home loan is much more than just financing the purchase of a new home. There are several kinds of home loans:
Purchase of a Home Loan
Loan for Home Construction
Loan for Home Improvements
Loan for Purchasing Land
Loan for a Joint Residence
Home Improvement Loan
Benefits of a Home Loan
In contrast to other loans that may be deemed liabilities, when you take out a home loan, you are essentially developing an asset. In most circumstances, this asset will only grow in value over time. This makes getting a home loan quite appealing.
You are able to obtain your ideal home.
A house loan has the potential to make your dream a reality. It lowers the cost of purchasing a home.
Repay according to your financial situation.
Home loans are quite adaptable. You can choose a repayment term of up to 30 years, putting monthly payments well within your means. You can choose an EMI and pay off the loan based on your budget.
Tax Advantages
Home loans, widely regarded as the most effective tax-saving tool, enable you to save significantly. Sections 24, 80C, and 80EEA of the Income Tax Act allow you to claim a tax deduction of up to INR 5 lakhs.
Asset Development
Your home is an asset that can provide you with the greatest return on investment. This asset's worth will not decline due to depreciation, unlike an automobile.
Simple Procedures
The procedures at Home First Finance are simple and transparent, from the loan application through the payment trip. Our committed customer service team is available to you at all times.
What are the documents needed for a home loan?
Though filling out a loan application may appear to be a daunting endeavor, if you do your homework, you will be able to breeze through this procedure with ease. The home loan documents required with the loan application are primarily determined by the applicant's profession/occupation. Let us begin with the documents that are shared by all:
PAN
Identity Verification
Driver's License
Aadhar Card
Passport Address Proof
An Identity Proof with the Permanent Address
Voter's ID Card
Telephone Receipt for Electricity Bill
Water Tax
Property Tax
Post-paid Mobile Phone Bill
Documents Concerning Property
Stamped sale agreement/Sales Deed or letter of Allotment
NOC from the builder/housing society
Certificate of Possession Estimated Construction Costs
In the event of a newly built apartment, a bank account statement is required, as well as an occupancy certificate
Passport-sized photographs
Home Loan Documents Required for Salaried and Self-Employed Applicants
A home loan application form that has been completed and signed.
Identification Documentation: (Any one of the below)
PAN Card,
Passport,
Aadhaar Card,
Voter ID Card
Driver's License
Age Verification: (Any one of the below)
Aadhaar Card,
PAN Card,
Passport,
Birth Certificate,
10th Class Marksheet,
Bank Passbook,
Driving Licenses are all required documents.
Documentation of residency: (Any one of the below)
Bank Passbook
Voter's ID
Ration Card
Passport
Utility Bills (Telephone Bill, Electricity Bill, Water Bill, Gas Bill)
LIC Policy Receipt
Letter from a reputable government agency confirming the customer's address
Income Documentation
Form 16 (Salaried)
Payslips from the last two months,
Increment letter
IT returns for the last three years (increment or promotion letter)
Aside from proof of income, the salaried individual would be required to provide any investment proofs (such as fixed deposits, shares, etc.) as well as passport-size photographs.
For Self Employed:
Income Tax Returns (ITR) over the last three years for self-employed individuals
The Company/Balance Firm's Sheet and Profit & Loss Account Statement (duly attested by a C.A.)
Details on a Company's License (or any other equivalent document)
Professional Practice Licence (For Doctors, Consultants, etc.)
Certificate of Registration of Establishment (For Shops, Factories & Other Establishments)
Proof of Business Location
List of Property Documents for Home Loan:
Payments paid to the developer must be accompanied by receipts (in case of a new house)
Buyer Agreement / Allotment Letter
Title Deeds, as well as the chain of preceding property documents (in case of house resale)
a copy of the sale contract (if already executed)
Receipt of the house seller's initial payment
The plot's title deeds (in case of house construction)
An architect's or civil engineer's thorough estimate of house construction.
A copy of the plans that have been approved by the local authorities
Evidence that there are no encumbrances on the property
Additional Documents:
All candidates and co-applicants must submit passport-sized pictures (to be affixed on the application form and signed across)
Evidence of one's own contribution
Bank statements over the last six months demonstrating repayment of outstanding debts (if any)
Details on ongoing loans in the name of an individual or corporate entity (such as the outstanding amount, monthly installments, purpose, remaining loan length, and so on) (if any)
A check for the processing fee in favor of the home loan provider
For Salaried:
If the present job is less than a year old, an employment contract or appointment letter is required.
For Self-Employed
Business Profile
Latest Form 26 AS
In the case of a company, a list of Directors and Shareholders with their individual holdings is certified by a CA / CS.
In the event that the company entity is a partnership firm, a partnership deed is required.
The Company's Memorandum and Articles of Association
List of Home Loan Documents Required for NRIs/PIOs Applicants
KYC Documents:
Passport with VISA stamps / PIO Card
Proof of Address with a current foreign address
Proof of Income (For Salaried:):
Work permit
Employment Contract / Appointment Letter / Offer Letter (Duly attested by employer/ consulate / foreign office / embassy if in another language)
The work permit/identity card (documents in a language other than English must be translated into English and countersigned by the consulate)
'Last three months' For applicants working in the Middle East, wage certificates/slips (in English) detailing name, date of joining, designation, and salary details.
Bank statements from the last six months that show salary credits Account for NRE / NRO (if any)
Report from the Credit Bureau (in case available in the country where you are residing)
a duly acknowledged copy of the previous year's ITR (save for NRIs/PIOs residing in Middle Eastern countries and merchant navy employees)
For applicants working in the merchant marine, a copy of their Continuous Discharge Certificate (CDC).
Form P60/P45, as well as the most recent employment contract (for salaried)
If you have a previous loan from another bank or lender, please provide a loan A/C statement for the last year.
For Self Employed:
Professional Practice License / Business License (for Doctors, Consultants, etc.)
Certificate of Registration of Establishment (For Shops, Factories & Other Establishments)
Proof of business address
In the case of self-employed professionals/businessmen, proof of income is required.
Balance sheets and profit and loss accounts for the previous three years audited or verified by a C.A.
ITR for the last three years (save for NRI/PIOs residing in Middle Eastern countries)
'Last six months' Bank Statement of foreign accounts in the name of an individual and/or a company/unit
Property related documents
Original title deeds tracing the property's title
Encumbrance Certificate Agreement for Sale/sale deed/detailed cost estimate from the Architect/Engineer for property to be purchased/built/extended/improved
A copy of the approved construction/purchase/extension drawings
Receipts for payments made for the purchase of the dwelling unit, ULC clearance/conversion order, and so on.
Receipts for investing margin money through standard banking channels from NRE/NRO account(s) in India
The most recent tax payment receipt
Letter of allocation from the co-operative society/association of flat owners
Please keep in mind that all documents must be self-attested. Aside from the documents listed above, the lender may request more or less.
Share this article on WhatsApp
Also read: