Home » Articles » Factors Affecting Home Loan Eligibility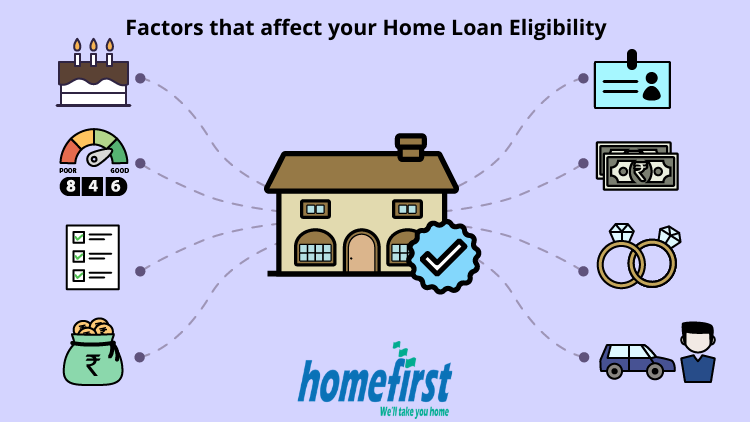 Home Loan Eligibility is an online tool to calculate home loan eligibility. Banks considers various values like monthly income, loan repayment tenure, other sources of monthly income, and EMIs due etc. A home loan eligibility calculator calculates the various fields of eligibility. It helps the buyers in making a well-informed decision before buying a new home.
Every individual should meet the home loan eligibility requirements before applying for a home loan. It is secure to repay the home loan without any difficulty otherwise the loan application might get rejected which can result a negative mark on applicant's profile. So it is safe to ensure all the related requirements of home loan eligibility.
Factors Affecting Loan Eligibility
Credit Score
Credit score plays an important role in home loan eligibility. A lender checks the applicant's credit score before home loan approval. A credit score is an indicator the shows a person's ability to pay back home loan on time.
A credit score is a 3 digit number from 300 to 850 which indicates a loan applicant's creditworthiness. It consists of an applicant's financial profile like monthly income, liabilities, repayment history etc.
A high credit score not only increases your chances of getting a low interest rate home loan, but it may also mean that you could be eligible for a large loan sum of Rs. 5 Crore* or higher.
Income Stability
Income stability is very important aspect in terms of home loan eligibility as it shows your home loan repayment capacity. Salaried and proficient candidates, stand to acquire on their home loans if they meet the bank's minimum income models with the necessity of work insight and income stabilities.
Property Details
Property details also plays a vital role in determining the housing loan eligibility. Under construction home in a popular area can get a home loan at lower interest. If the property profile doesn't meet the eligibility requirements, it would be difficult for the lender to get the home loan approval.
Preferred Age
The applicants who fall under the required age range get more competitive offers from the lenders. It is difficult for the older applicants or the applicants whose age bracket falls above the required range to get low home loan interest rates. The maximum age limit for a home loan applicant is 62 at the time of maturity.
Outstanding Loans
Indian banks always suggest to keep the EMI to Income Ratio between 50 and 60%. This is to leave a window open for future loans or to pay off any existing loans. Unpaid loans, on the other hand, may severely limit your eligibility.
Home Loan Eligibility Criteria
How can you improve housing loan eligibility?
A variety of factors can improve housing loan eligibility.
To increase your chances of getting a larger loan, apply for a joint home loan with a co-applicant.
Obtaining a well-structured repayment plan.
Maintaining a steady income as well as regular savings and investments.
Giving details about your usual sources of extra income.
Keeping track of your variable pay's various components.
Taking steps to correct any credit-related issues you may have.
Paying off current debts and short-term obligations
How Eligibility Calculator Works
The calculator is based on a mathematical formula that calculates the eligible loan amount based on a couple of predefined parameters. These considerations include gross monthly income, loan term, existing monthly obligations, and so on. When you enter the necessary information, the calculator returns results instantly.
How to Calculate:
Several parameters may differ from one lender to the next. A few banks have different parameters to fill out as well. In the calculator, enter the following values:
Your current location
Date of birth or age
Select net monthly income.
Add another source of income.
Choose the loan term that works best for you.
Some banks may request information about the current EMIs you are currently servicing.
We hope that this quick primer on eligibility has helped you understand the fundamentals of eligibility. Please make the best use of the home loan eligibility calculator below to get started on your search for your dream home.
Share this article on WhatsApp
Also Read: