Home » Articles » How Do Lenders Determine Home Loan Interest Rate?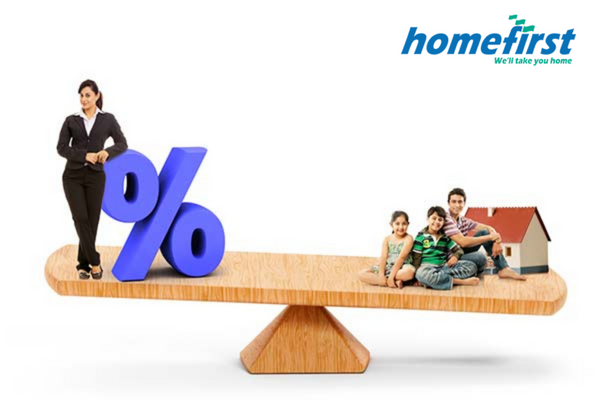 Home loan interest rate is defined as the rate of percentage of principal amount charged by home loan lender. The home loan amount is determined by the interest rate charged by banks and non-financial institutions. The interest rate charged determines how much you must pay your lender each month against your loan. Interest rates are typically linked to the repo rate and vary by lender.
Home loan interest rates differ in every financial institution. It also vary from person to person. A very small change in the home loan interest rate can lead to an immense increase in overall interest paid.
In exchange for financing your home, the lender charges you interest when you apply for a home loan. This interest rate on a home loan can be thought of as the cost of borrowing or the cost of the loan. You pay this interest along with the principal borrowed through Equated Monthly Installments over the life of the loan (EMIs). The home loan interest rate is calculated using several factors, and understanding them before applying for a home loan can be beneficial. These elements are as follows:
Factors that Determine Home Loan Interest Rates
Repo Rate
The Repo Rate is the interest rate at which the Reserve Bank of India lends money to other banks. Naturally, the lower the lease rate at which banks obtain their loan, the lower the rate a customer pays. As a result, the lower the repo rate, the lower the interest rate for end users.
Reverse Repo Rate
This is the inverse of 'Repo Rate.' At this rate, banks lend to the Reserve Bank of India. If the Reverse Repo Rate is high, banks are eager to lend to the RBI. This means that the bank will profit handsomely, which will be passed on to customers in the form of lower interest rates.
Credit Score
When you apply for a home loan, the bank will always check your credit score. This informs the bank of your creditworthiness and allows them to determine whether you are a high-risk borrower or not. The higher your credit score, the lower your interest rate on a home loan. Your credit score is determined by factors such as payment history, credit length, total debt, and so on.
Prime Lending Rate (PLR) 
PLR is the interest rate reference rate that banks use to determine interest rates on various products. Many banks state interest rates in the format shown below. PLR + 0.5%. In this case, if a bank's PLR is 8%, the interest rate on their housing loan would be 8.50%.
Cash Reserve Ratio (CRR)
CRR is the minimum percentage of total customer deposits that the bank must hold as reserves. This can be in cash or in the form of deposits with the RBI. The higher the CRR, the higher the interest rate paid by the customer. This is because an increase in CRR reduces the amount of liquidity in the system.
Statutory Liquidity Ratio (SLR)
The SLR is the reserve required of commercial banks. SLR can be kept in the form of gold, government securities, and so on. A bank can only offer credit to its customers after the SLR has been met.
Benchmark Prime Lending Rate (BPLR)
The BPLR is the interest rate at which a bank lends to its customers. The BPLR was replaced by the RBI because banks frequently loaned money at extremely low interest rates. With this in place, no bank will be able to lend below the BPLR. This can have a visible impact on the interest rate that a bank offers a customer. The greater the BPLR, the greater the interest rate that a customer must pay.
Tips to reduce Home Loan Interest Rates
Here are the few tips to reduce home loan interest rates:
Chose Short Home Loan Tenure
Home loan tenure is a very important aspect which determines the interest you will be paying. Longer tenures ensures less EMI but You'll end up paying more in interest.
Make More Down Payment
A methodical approach to purchasing a home will be advantageous. You can work toward a larger down payment and then reap the benefits of a smaller loan amount with a much lower interest rate.
Keep Good Credit Score
Credit score ranging above 750 is considered as a good credit score. Credit score reflects your responsibility as a borrower. Lenders will view you as a trustworthy borrower and will offer you a lower interest rate on a loan.
Go for a Home Loan Balance Transfer
If you believe you are not receiving favourable terms from your current lender, the first step is to approach the lender and request a rate reduction. Most lenders will try to keep their good customers and may be willing to accommodate. You can request that the bank match a competitor's interest rate, or you can request that the interest rate be reduced based on your credit history. Then you can choose to transfer the loan to a new lender. All you have to do is find another lender who offers interest rates that meet your needs and check for any other fees they may levy.
Reconsider EMI Every Year
Certain lenders allow you to adjust your EMI once a year. If your salary is increased or your income consistently rises, you may choose to increase your EMI. This may appear strange at first, but the higher your Home Loan EMI, the shorter your tenure, and thus a significant reduction in your interest rate.
Conclusion
Everything you need to know about lowering your home loan interest rate is covered in the points above. Aside from that, it is critical to have a consistent and long-tenured work history. Lenders are more likely to favour those who have worked at the same place for many years and have a consistent/growing income.
Everyone wants to own a home, so home loans have become an essential and unavoidable part of our lives. Home loan interest rates are currently at an all-time low, making now an excellent time to obtain one. If you already have a home loan, it is best to switch to a lender that offers lower interest rates.
Share this article on WhatsApp
Also read: