Home » Articles » Loan Against Property Vs. Personal Loan: Which One is Better?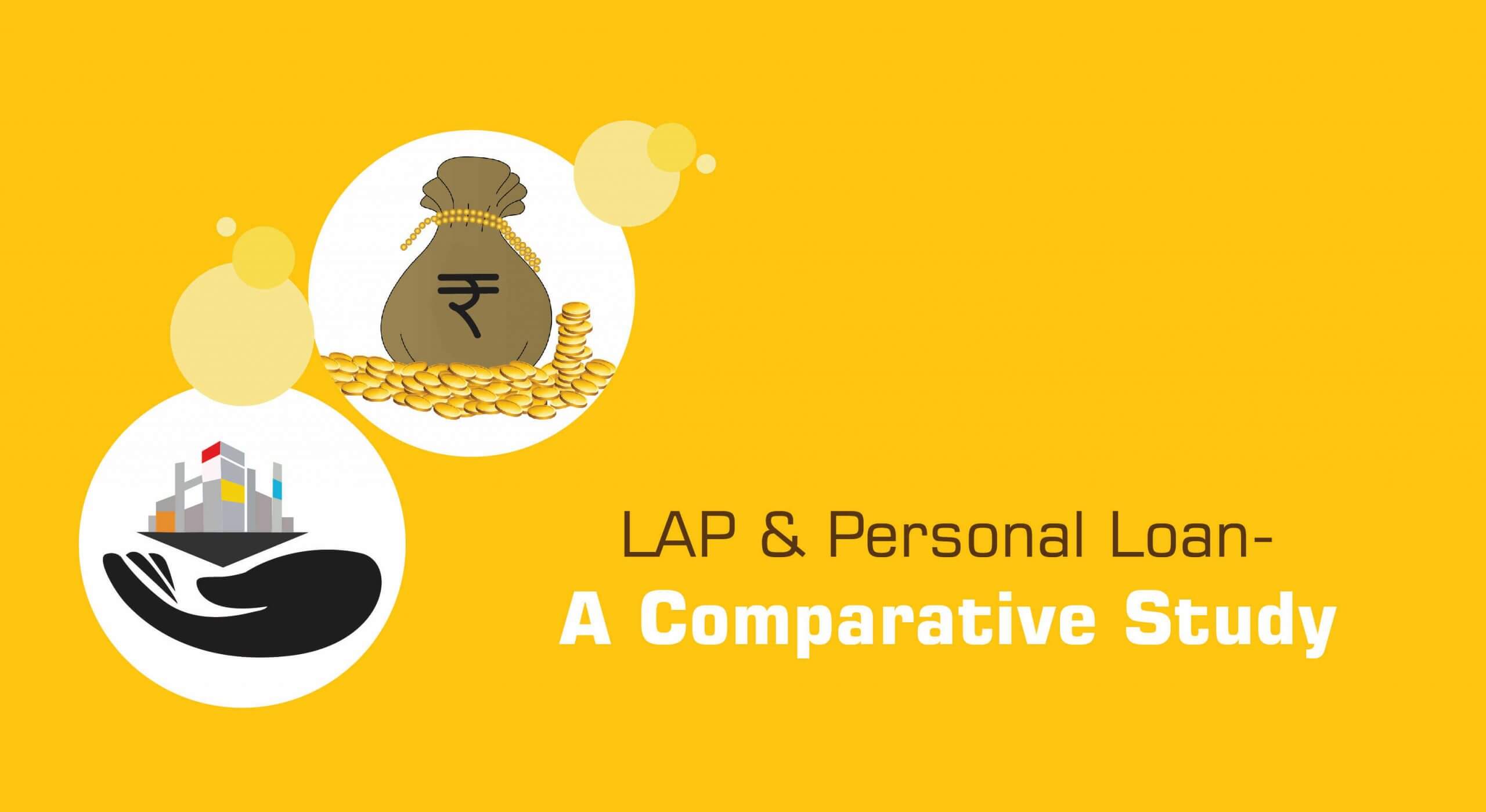 Our great grandfathers always advocated a loan-free life. Very rightly so, in medieval times there were no banks but landlords aka 'zamindar's,' remember those famous 'Bollywood' dialogues, "Maa Ke Kangan", "Zameen Ke Kaagaz", stories of a helpless father who couldn't get his daughter married because of loan against property to a 'vicious landlord' who never returned the papers despite paying the dues and also there was no personal loan available back then.
Times have changed since then banking systems evolved into an organized sector and in this rapidly growing economy taking a loan has become a very common phenomenon. Though fundamentals of financial requirements haven't changed much with times, it can arise out of various situations like a wedding in a family, business expansion, child education, etc. Luckily you don't have to go to a landlord to seek financial support, but you can make your choice between a Loan against property (LAP) or Personal Loan (PL) both has their pros and cons, and based on the evaluation below you can take your call which suits you the best Loan Against Property (LAP) or Personal loan (PL). You may even figure out is it worth taking a loan? or your great grandfather was right!
What is Loan Against Property and Personal Loan?
Loan Against Property (LAP) as the name says is a loan disbursed against the collateral in the form of residential or commercial property. LAP is a secured loan sanctioned against an immovable asset like your property hence the possibility of getting a bigger loan amount is higher.
Personal Loans (PL), on the contrary, is an unsecured loan disbursed by the bank without any collateral or mortgage of land/property as security. As PL is an unsecured loan the amount sanctioned could be lower than LAP, hence Personal loans are usually taken for lesser financial requirements as compared to LAP.
Loan Against Property vs Personal Loans
Processing Time
The urgency of receiving the disbursal amount largely depends on the purpose for which the loan is applied. Personal loan (PL) is processed faster than Loan Against Property (LAP), as the credit assessment process is faster, with minimal steps. LAP on the other hand takes longer, as the evaluation process goes through an in-depth analysis and legalities of the property to be mortgaged before the loan is approved.
Personal Loan (PL) is highly suitable for those seeking a quick loan as the process is not as lengthy as Loan Against Property (LAP). Most Personal Loans nowadays are also pre-approved and may just take approximately 7days to disburse the amount. In personal loan amount is not disbursed against any collateral or property. Instead, the application assessment is purely based on your consistent monthly income and average credit score——
Loan Against Property (LAP) on the contrary is not suitable for those seeking quick loans. The entire process can take up to 15 to 30 days subjective on various technicalities as 'Loan against property (LAP)' is acquired by mortgaging the property, the lender needs to verify the authenticity of the documents submitted by the borrower before giving the loan disbursement approval. In the case of Loan Against property (LAP) the applicant may have to undergo a detailed verification process to certify the ownership of the property and the actual market value of the asset. For LAP borrowers may even have to provide supporting documents of his/her income as a prerequisite to assess their loan repayment capacity.
Rate of Interest
As they say, there is no free lunch in this world so is when it comes to LAP vs PL—-as a basic rule, a personal loan (PL) is always more expensive than Loan Against Property (LAP). PL has more risk than LAP as the assessment is based on the credit score and not against property which makes Personal Loan (PL) unsecured and is usually offered at 11%- 24% interest rate. Loan Against Property (LAP) is a secured loan against the property; therefore, it can be availed at 11%- 16%; with the flexibility to choose between a fixed or floating rate of interest.
The loan amount and tenure
Only in the case of lower credit score, one may seek to avail LAP for small amounts, as LAP is usually preferred for higher loan amounts with a long payment tenure of around 5–15 years. In the case of PL, the tenure is short and is usually up to 5 years with a capping of 15- 20 lacs, making it preferable for those seeking lesser and quicker loan amounts.
The EMI on PL will be always higher than LAP since PL is for shorter tenure means high payout in shorter time whereas Lap is for longer tenure which means small payouts in longer duration.
Though LAP offers attractive lower interest rates the longer payout tenure eventually makes it expensive due to higher disbursement of interest.
Processing fee
Loan Against Property (LAP), may incur a processing fee of 0.5%–1.5% of the loan amount, while Personal Loan (PL), may incur the processing fee of 1.5% and 2.5%.
Loan Disbursal
Personal Loan (PL) is offered on the basis of your income and ability to service it, meaning no security is required for approval hence disbursement of the amount can be done within a few days.
In the case of Loan Against Property (LAP), the disbursed amount ranges between 40- 70% of the property value and can value in crores which makes it a better option in case your requirement is of high amount without any urgency. In LAP the processing takes time as the lender will carefully verify all the property-related documents, owner's information, in case of multiple owners, every owner will have to issue a no-objection certificate for loan approval, which makes the process lengthy and time-consuming.
Repayment and credit score
A personal loan (PL) is an unsecured loan with a higher interest rate, hence paying timely dues will drastically boost your credit score. LAP is less risky as it is approved against the security of the borrower's assets and has a lesser interest rate. Unless LAP's tenure is shorter than PL, it is cheaper when it comes to the rate of interest. Though the regular payment of dues in both cases will always keep your credit score healthy which may eventually help you in case of loan requirement in the future.
Pre-payment
Usually, longer EMIs mean added interest on your loan amount which is profitable for banks. Hence when you initiate a pre-payment application bank may incur pre-payment charges.
In the case of prepayment of a personal loan (PL), banks will charge an extra pre-payment fee.  In LAP there are pre-payment charges on fixed LAP, whereas there are no pre-payment charges on floating LAP.
Application & Sanction
You may apply for LAP or PL as per your requirement but the entitlement criteria for Loan Against Property (LAP) and Personal Laon (PL) is different. The documents required for both the application may be similar but the eligibility criteria for a personal loan (PL), are evaluated based on your monthly income, whereas for LAP the eligibility will be determined on the basis of your repayment capacity and property value. Apart from the documentation the bank will also consider various factors like your age, Job tenure, Job profile, business turnover, business history, and profitability before sanctioning the loan.
Documents for approval
Income proof
Identity Proof
Address proof
Bank details
Income Tax Returns.
Property papers for LAP
LAP or personal loan (PL) are the two most popular credit services one resort to in case of monetary requirement. Both LAP and PL have their pros and cons, based on the urgency and amount required the selection is often made whether to go for LAP or PL. Before you opt for LAP vs PL, carefully analyze your paying capacity, as just in case of non-payment of dues or untimely payments both LAP and PL can have an adverse effect on your financial credentials. In LAP you'll even lose your property which you want to have mortgaged as security with the bank. Hence before applying calculate your pay-out capacity and therefore the tenure which is best suited to your requirement. The longer the tenure lesser the EMI but the longer tenure also will incur an added rate of interest and you may end up repaying more.
Loan Against Property (LAP) for obvious reasons is more beneficial than Personal Loan (PL). LAP avails the best offer as compared to PL——- it gives greater flexibility, lower interest rates, higher loan amount, and longer repayment tenure. LAP is also best suited for those running their own businesses or is self-employed professionals. Personal Loan offers quick processing but at a higher rate of interest, is less flexible, has shorter repayment tenure, and is suited for the lesser loan amount.
Consider the above factors along with your current requirement to make a choice between LAP vs PL; whichever suits you the best and is beneficial to you in longer form as well.
Share this article on WhatsApp.
Also read: