Home » Articles » How Loan Against Property is Different from Home Loan?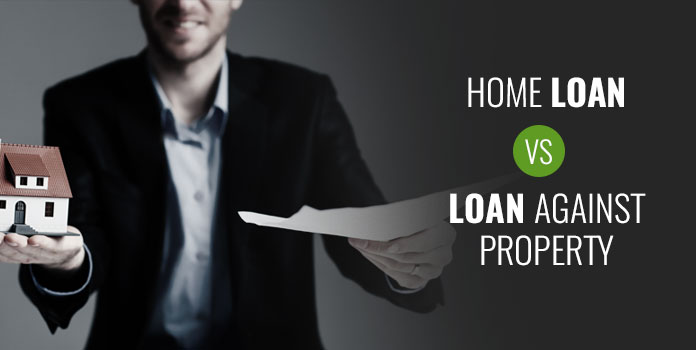 There are plenty of financial terms with regards to home loans that leave the borrowers confused. Most of the time borrowers get confused between 'Home Loan' and 'Loan Against Property as the features and benefits of both the loans are quite similar. Very often, these two terms are even used interchangeably. Loan against property is additionally also known as 'mortgage loan'.
So, What is the Difference Between Home Loans and Loans Against Property? Let's Find Out.
A home loan is actually a loan you're taking to buy a ready-to-move-in house, a property under construction, or a plot of land on which you plan to create a house. This is often a secured loan offered by banks or housing finance companies and therefore the buyer must pay a down payment. The lender charges a fixed or floating rate of interest on the loan and therefore the buyer must repay the loan in monthly EMIs. The lender continues to be the owner of the property until the borrower pays off the EMIs after which the ownership is formally transferred to the borrower. If the borrower defaults on EMIs, the lender can auction it off to recover losses.
A loan against property is actually a mortgage loan. In this, a borrower can pledge his existing, self-owned property for a sum of amount that equals a particular percentage of the market price of the property he owns. He must hand over the property documents to the lender until the time he repays the loan and therefore the loan, just like the home loan, is often repaid in EMIs consisting of the principal loan amount taken and therefore the rate of interest. If the borrower defaults on repaying the loan, the lender can sell the pledged property to recover his investment.
LAP vs. Home Loan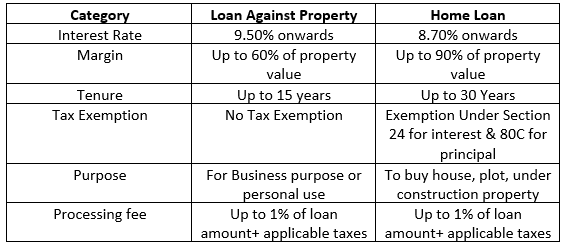 Here is Some Important Difference Between LAP and Home Loan to Make you Understand Better:
Interest Rate: One of the key differences is that the rate of interest that's being charged to the borrower. Typically, loans against property interest rates are above the interest levied on home loans. this is often because banks and lending institutions think the possibilities of people defaulting on loans against property are higher. Additionally, the govt and also the reserve bank of India (RBI) always attempt to make sure that housing is affordable for all, hence, trying to reduce the value of taking out a home loan.
Usage: While home loans have limited use i.e., they can usually only be obtained to purchase a home, plot, property under construction amongst others Whereas, a LAP is a multi-purpose loan that is availed by leveraging land to get funds for anything varying from expanding your business to funding your child's education. A LAP is secured by using your land asset as collateral.
Loan to Percentage Value: Another important distinction is that loans against property grant you around 60% of the property value, while for home loans this figure can increase to 90%.
Tenure: The loan tenure you'll avail for a LAP and home loans tends to differ. Typically, home loans have tenures of 20 years and may go up to a maximum of 30 years. However, while still long, most loans against property have a maximum loan tenure of 15 years.
Top-Up Option: Almost all loans against property have the option of a top-up, which suggests that you simply can get more funding if necessary, on your existing loan. This provides you more flexibility and allows you to use a similar loan for multiple financial obligations. Typically, home loans don't have such a facility, however, some banks and lending institutions may provide you with a similar dependent on further assessment.
Process of Documentation: Usually, home loans required around 15 days to be approved and sanctioned and have a comparatively simple documentation process. However, loans against property take longer to be processed as banks and lending institutions need to get the property valued also as obtain and check upon the personal information of the borrower.
Tax Exemption: Perhaps the foremost noteworthy difference between the two loans is that the tax exemption that may be availed. While loans against a property usually have non, home loans do accompany tax benefits under Section 24 for the interest paid on them and under Section 80C for the actual principal amount.
Thus, considering all the information associated with the comparison between home loans and loans against property, the borrower can easily differentiate and prioritize his/her requirements and check and compare various loan options offered by several banks and NBFCs. By visiting paisabazaar.com customers can choose between numerous home and mortgage loan options that suit their requirements at no additional cost. We understand that tons of money is involved in taking any home loan or LAP.
Share this article on WhatsApp.
Also Read: