Home » Articles » Home Loan Affordability Using Income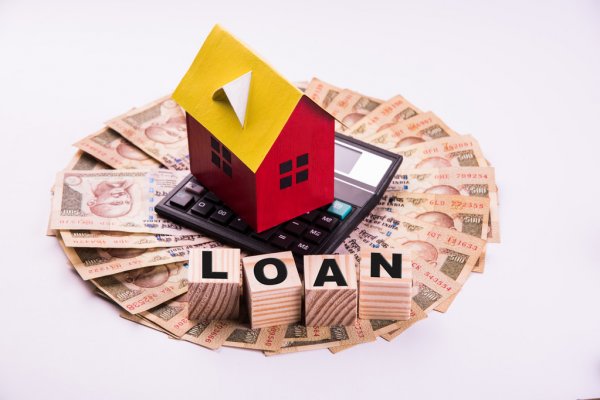 Alright, so you're earning an X amount of money every month and you want to know if you can afford that dream house of yours? Well, calculating affordability only based on income is a job half done, hence here's a piece on how to accurately calculate the affordability of a house.
But, since we're here, let's dance!
Total Income – Okay, first things first. You need to calculate how much is your total family income. Include all income sources here like taking weekend classes, any kind of freelance jobs, or income from second jobs as well. If your spouse is earning or a parent as well, then include that. Basically, all the people who are going to be invested in the new house.
Total Expenses – Now, minus the total expenditure. This should include any existing EMIs, insurance premiums, SIPs (that you can't stop), grocery expenses, education expenditure, et al. All of those things that take money away from you, should be included here. Another aspect that you need to consider is your Future Expenses. Maybe your kid wants to go to Stanford or you feel like you should own an MG Hector because your colleague thinks that a new house deserves a new car. Does a parent need to undergo major surgery, or is one of your kids getting married within the next 2 years? What if there's damage due to natural disaster, vehicle damage, job loss and God knows what can happen. What if a deadly virus breaks out, locks down an entire country, and crashes the economy! Would you be able to sustain yourself given that you would have an additional liability of monthly EMIs? Therefore, remember to have a Safety Net where you park money for your emergencies and unavoidable expenses. A general rule of thumb says to have at least 6 months of total expenses as a safety net amount. Apart from this, also have about 1% of the gross house price for emergency house repairs, maintenance, and enhancements.
Let's suppose the following:
Net family income – Rs. 50,000
Total Monthly Expenses – Rs. Rs. 20,000
Net cash in hand – Rs. 30,000
Now, you're ready and you know how much EMI you can afford to pay.
Suppose you can afford to pay Rs.26,000 (approx.) EMI per month @ 8.5%. How much money can you afford to borrow? Rs.30,00,000!
Okay, let's say you're going to be borrowing 80% of the total house cost. So, 30,00,000 is 80% of which number? Rs.37,50,000 (Borrowed amount ÷ 80%). That's the maximum value of the house that you can afford. And hey, don't be flattered by my math skills here. I'll be honest. I used this nifty EMI calculator to get all the answers. Just one disclaimer here – I've assumed loan tenure to be of 20 years because that's the usual tenure that most people go for. But you can change that as well.
We had a lot of assumptions here to arrive at the value of the house that you can buy. What if you need to borrow only 60% of the total house cost or maybe 90%? What if the ROI is not 8.5%? Hell, what if you could pay a higher EMI? Well, just tweak the numbers and you will have your answer.
But there are a lot of other costs associated with a house as well. Here's a handy chart to help you understand: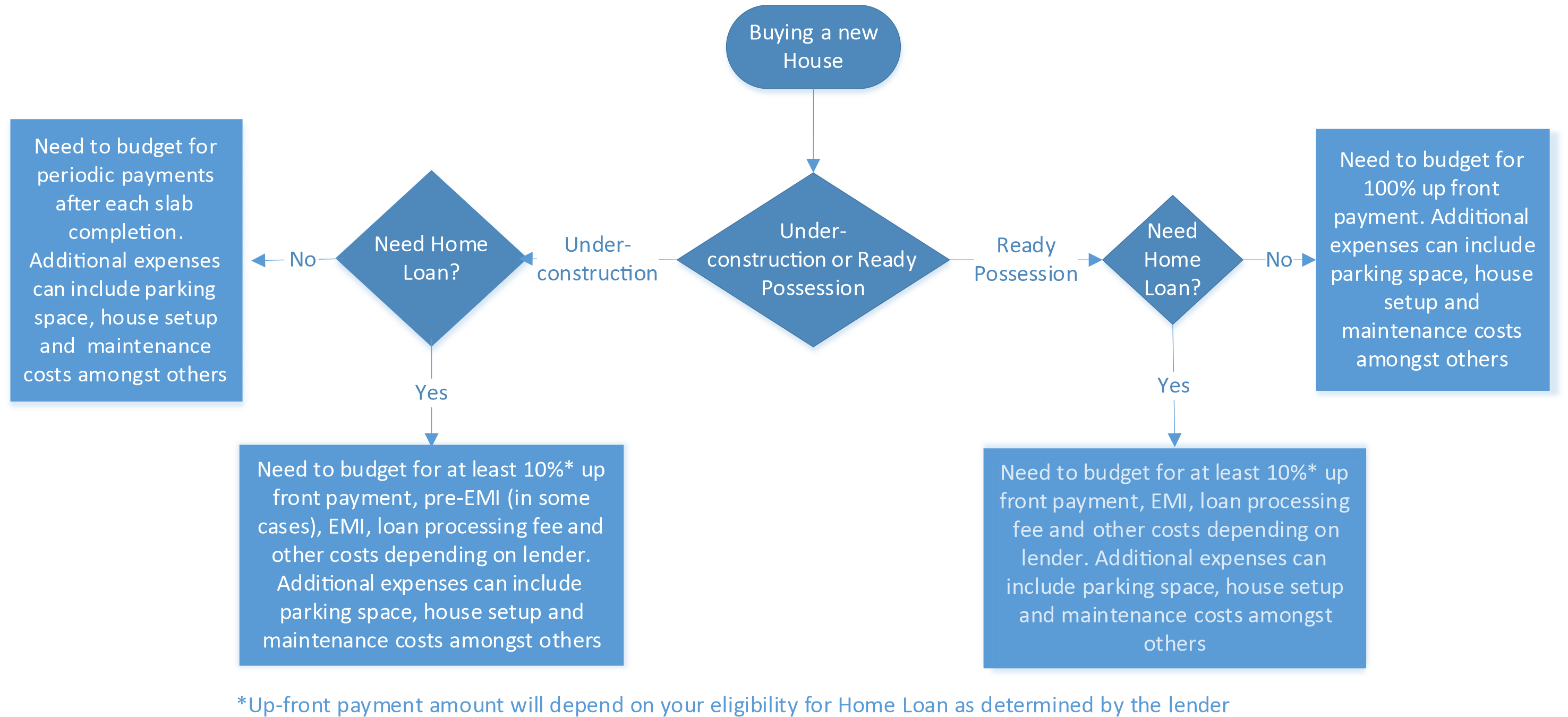 Let's see, how your budget looks like now:
Budget Required: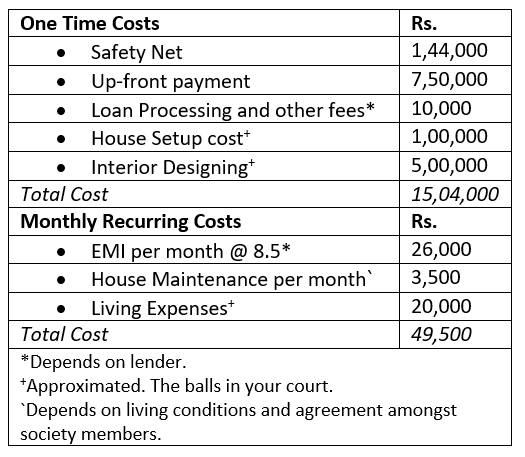 So, you see you're going to be spending around 13.6 lakh (subtracting the safety net amount) as you buy a new house that you can afford as per your monthly income. I'm hoping you have this stashed! Adios.
Share this article on WhatsApp
Also read: