Home » Articles » Home Loan Top Up vs. Home Loan Balance Transfer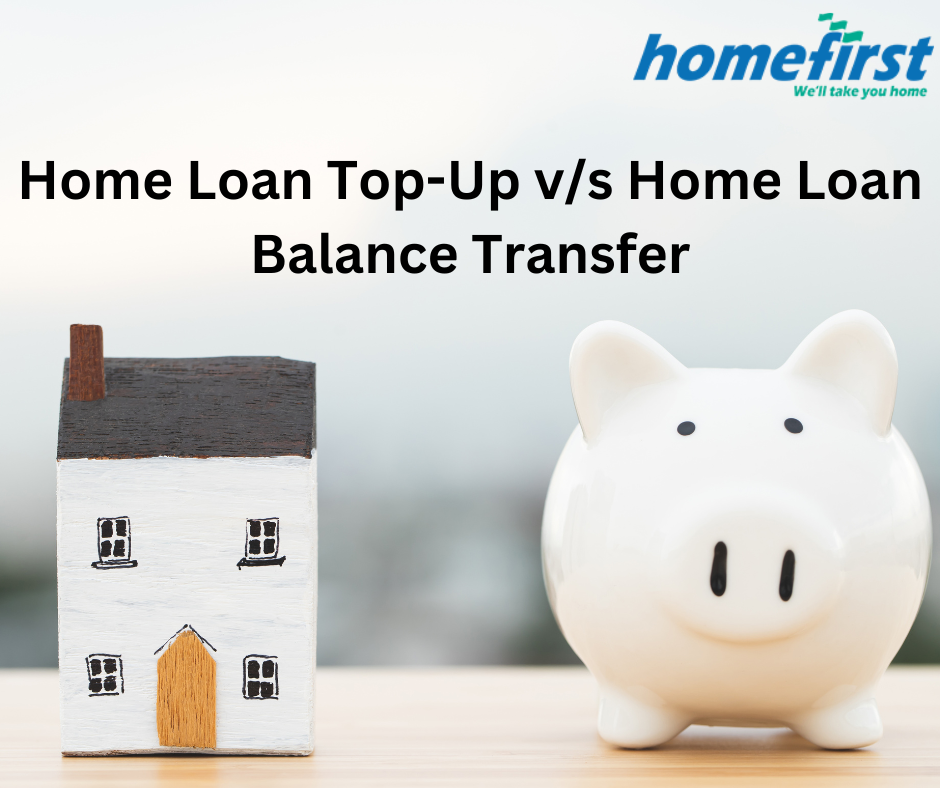 A home loan acts as more than just the primary source of monetary support for the purchase of a home. If you have borrowed a loan then you must be aware of the repayment schedules. You must have done careful planning also for the repayment of the loan. But what if suddenly all your plans get dismantled by some unexpected circumstances and you run out of funds?
Lenders offer special offers for such times, such as balance transfers and top-ups.
Existing loan borrowers can take advantage of numerous additional benefits. The best part about getting a loan is that it allows you to own a home without putting you under a lot of financial stress.
Home Loan Top Up
Home loan top-up is the monetary support, offered by the banks and financial institutions to get a home loan in addition to their principal loan. The maximum loan amount and the loan tenure differ by different lenders. The borrowers can obtain the top-up loan from their current or a different lender via a home loan balance transfer.
Home Loan Balance Transfer
A Home Loan balance transfer is a credit facility in which your existing balance is transferred to a new lender. This decision is usually motivated by better loan terms available from another lender, such as lower interest rates, longer repayment terms, lower processing fees, and so on. This option is useful during times of crisis because it can help reduce your EMI or the total interest cost you must bear.
Difference Between Home Loan Top-Up and Home Loan Balance Transfer
Meaning:
A Top Up is an additional loan over the current loan. A borrower can borrow the additional top-up loan from the existing lender or some other lender.
A balance transfer is a transfer of credit to a new bank or financial institution that offers a better interest rate than the existing rate.
EMI:
With a Balance Transfer, your monthly payments will be significantly reduced because the new lender will offer you a lower interest rate than the one you were previously paying. However, because this facility is in addition to your existing loan, your EMIs are bound to increase. Lenders offer to top up at the same interest rate as you currently pay on your running loan. You must serve separate EMIs for your Loan and Loan Top-Up.
Availability:
A home top-up loan can be obtained at any point during the borrowing cycle. Only after 12 monthly installment payments with your previous lender are you eligible for a balance transfer.
Loan Amount:
Top-up loans are limited to 70% to 75% of the property's estimated market value minus the outstanding loan amount, whereas loans are limited to 80% to 90% of the total property value.
Loan Tenure:
Top-up home loans are frequently done faster, but they are only available for the loan duration. Balance transfers may take longer to process, but they significantly reduce repayment tenure.
Choice of Lender:
You can apply for a Loan Top Up with your current lender or with a new lender who offers you the option of a  Balance Transfer as well as a Top Up. A balance transfer, as the name implies, is only available when you transfer your loan account to a new financial institution. There is no other way to use this service.
Eligibility Criteria for Top-Up and Balance Transfer
Home Loan Top Up
The qualifying criteria for the home top-up loan will be the same as those for the loan from the bank from which you are requesting or have previously obtained a loan. This varies depending on the bank. However, the following are some critical points to keep in mind:
There should have been no more than one EMI bounce in the previous year.
If an EMI is returned, it must be resolved before the next EMI is due.
The existing mortgage must be paid off in full within six months.
Top-up loans and balance transfer from other banks need one year of clear repayment history.
The following are the general criteria, which are the same as for loans (though they may differ from bank to bank):
21 to 65 years of age
Nationality: Resident Indian or Non-Resident Indian
Salaried or self-employed individuals
Home Loan Balance Transfer
You can apply for a  Balance Transfer to take advantage of our low-interest rates and other benefits. Borrowers who have only paid one Loan EMI with their current lender can also transfer their loan.
Individuals on Salary
Balance Transfer for Salaried Employee:
You must be an Indian citizen.
You must be between the ages of 23 and 62.
You must have at least three years of experience working for a public/private sector company or an MNC.
Balance Transfer for Self-Employed:
The following are the eligibility requirements for self-employed individuals for the Housing Loan Balance Transfer:
You must be an Indian citizen residing in India.
You must be between the ages of 25 and 70.
You should be able to demonstrate the consistent income from a business that has been in operation for at least 5 years.
Benefits of Top-Up and Balance Transfer
A top-up can be used to meet a variety of other needs, such as funding a wedding or home improvement. Also, due to a running loan, the house loan eligibility criteria are simple and require minimal paperwork.
Balance transfer makes sure that you can take advantage of lower interest rates from a new lender to either reduce your loan duration or save on overall interest charges. You can also get a top-up in addition to a balance transfer.
Share this article on WhatsApp
Also read: