Home » Articles » Pradhan Mantri Awas Yojana (PMAY): Reduce Your Home Loan EMI
Read this article in हिंदी, தமிழ், ગુજરાતી, ಕನ್ನಡ, मराठी, తెలుగు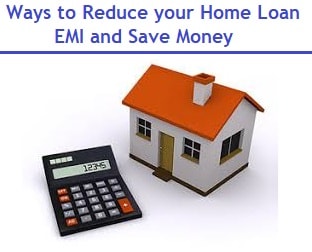 "
The Prime Minister, Narendra Modi announced the Pradhan Mantri Awas Yojana for those who fall within the middle-income class. "Housing for All" mission under the Pradhan Mantri Awas Yojana (PMAY) has two components—Pradhan Mantri Awas Yojana (Urban) (PMAY-U) for the urban poor and Pradhan Mantri Awas Yojana (Gramin) (PMAY-G and also PMAY-R) for the agricultural poor. The govt has finalized the rules for the scheme, and therefore the subsidy available as a part of this program is termed as "Credit-Linked Subsidy Scheme for Middle Income Groups" (CLSS – MIG). consistent with the PMAY, middle-income bearers are eligible for an interest subsidy of three to 4% on their home loan EMIs. Beneficiaries availing of this scheme are eligible to avail of interest subsidy on the acquisition or construction of a house or the enhancement of a dwelling unit and may speed up the prepayment of their home loan.
That's excellent news. Now, how does one avail of this subsidy? Are you eligible? If yes, the way to apply for the scheme while getting a simple home loan? How can you reduce your home loan EMI under Pradhan Mantri Awas Yojana?
How to Reduce Home Loan EMI Under Pradhan Mantri Awas Yojana?
Credit Linked Subsidy Scheme or CLSS under the PMAY (Pradhan Mantri Awas Yojana) has profited numerous Indian families with reduced EMIs. The PMAY scheme is aimed towards giving a reduction on home loan EMIs to qualified borrowers on the acquisition of their first home. It's a part of the other three schemes launched under PMAY carrying the motto 'housing for all' before 2022. Additionally, tax-sops like reduced GST of 8% (others pay 12% for the same house) on under-construction properties and increase in carpet area covered under the scheme's eligibility criteria are made to extend inclusion under the subsidy. To date, CLSS has drawn loads of traction from the housing finance industry with 185 primary lending institutions registered under the scheme, mostly represented by housing finance companies (HFCs) and banks. But how does this scheme work and are you eligible for a PMAY subsidy? Let's discuss.
Eligibility Criteria to avail PMAY Subsidy:
Those belonging to the Economically Weaker Section (EWS), Low Income Group (LIG), Middle Income Group-I (MIG-I), and Middle-Income Group-II (MIG-II) are eligible for this scheme. the subsequent conditions must hold for Pradhan Mantri Awas Yojana eligibility for the Pradhan Mantri Awas Yojana subsidy –
The applicant must be less than 70 years old
The applicant's income must be but Rs. 3 lakhs every year for EWS and between Rs. 3 – 6 lakhs per annum for LIG
Home loans sanctioned or within the approval stage post-January 1, 2017 are eligible for the house loan subsidy
Applicants with an annual income of up to Rs. 12 lakhs that have housing loans of up to Rs. 9 lakhs are eligible for a forty-five reduction in home loan EMIs. Those with an income of up to Rs. 18 lakhs with loans of Rs. 12 lakhs can avail 3% subsidy
The PMAY subsidy includes the construction, acquisition, and repurchase of an existing house
Once you pass the above criteria, you'll avail of the home loan subsidy, but obviously, there are more conditions to be met. These are –
The property to be purchased should be located in a region covered under the following schemes https://goo.gl/FvzMFU
One among the owners of the property should be a Woman (not required if the home is being constructed on an existing piece of land or being renovated to a pucca house)
The property isn't already subsidized by the other Central Government scheme.
The carpet area of the property is within the bounds specified for your income category.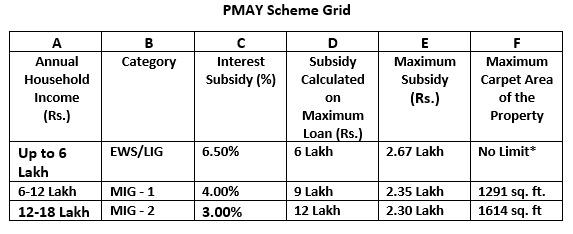 "
* For purchase/construction of a new property, otherwise EWS – 322 sq. ft and LIG – 968 sq. ft
If the above criteria match your profile then the applicable subsidy is going to be reduced from your total loan amount, and you'll need to pay EMI on this reduced principal. This subsidy is deducted upfront from the home loan amount and reduces your EMIs by Rs 1,000-Rs 2,500.
Scope of PMAY:
The property's owner must either be in the name of a female member or should be joint with the wife. However, this condition is not compulsory in cases of construction or renovation of an existing kaccha/semi-pucca house. Moreover, none of the members of the family should own a pucca house in their name in any part of India. As per the EWS category, the carpet area of the house should be up to 30 sq. mts. and for the LIG category, the limit is 60 sq. mts.
Under the scheme, women are given preference. Additionally, single working women, widows, differently-abled women, and people belonging to scheduled castes and tribes are given preference.
How to Apply:
If you qualify for PMAY and are wondering the thanks to applying for PMAY online, follow the step-by-step guide below.
Find out the category under which you qualify for PMAY.
Then visit the official website: http://pmaymis.gov.in/
Click on 'Citizen Assessment' under the main menu and choose the applicant category.
You will be redirected to a separate page where you ought to enter your Aadhaar details.
Fill out the online PMAY application alongside your personal, income, bank account details, and current residential address.
Enter the captcha code, verify details for accuracy, and submit it.
You can track the appliance status afterward by clicking on 'Track your Assessment Status' under 'Citizen Assessment'.
If you're unable to use it online and wondering the way to apply, PM Awas Yojana also supports an offline application. Simply visit a state government-run Common Service Centre and fill the application form for just Rs.25 plus GST. Do note that no private centers or banks are allowed to simply accept offline PMAY applications.
Also Read:
Share this article on WhatsApp.