Home » Articles » Home Loan in Chennai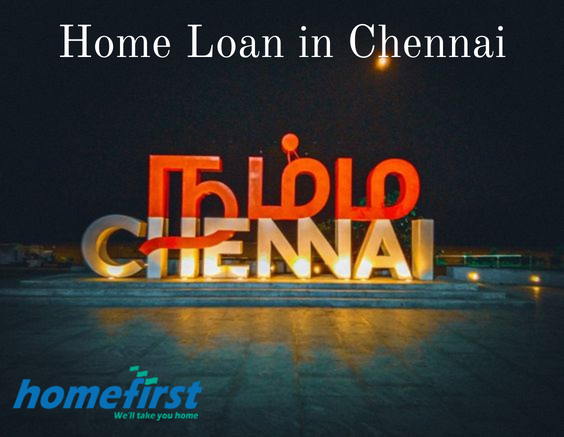 Chennai, the capital of Tamil Nadu is one of India's most crowded cities, with a populace of more than 10 million individuals. The city has an incredible framework, whether it is clinical, street, or instructive. The simple accessibility of public transportation and minimal expense food makes living in Chennai so engaging.
The number of individuals purchasing homes is expanding consistently, because of a flourishing land area and a mushroom of manufacturers constructing wonderfully styled houses.
Home First Finance Company India is a Housing Finance Company that offers home loan in Chennai with 48 hours authorization and bother freecycle. The greater part of our clients are first-time home purchasers and we enable them to reside better! The loan amount for these homes normally goes between 5 lakhs to 50 lakh Rupees.
Features of Home Loan in Chennai
Before getting a home loan in Chennai, understanding the significant features are important. HomeFirst offers you plenty of advantages on a home loan in Chennai:
Negligible processing charges on online applications
Attractive loan fees
Simple to-apply
Stretched out home loan residencies for as long as 30 years
Minimum documentation
Quick loan approvals
Fast loan payment
No hidden charges or conditions
Considerate door-to doorstep administrations
Eligibility of Home Loans
Your age is a crucial aspect to apply for home credits. Loaning organizations set the base and the greatest age limits for loan candidates, and if you don't fall there, you can not have any significant bearing.
You should either be salaried or independently employed. The moneylender will explore your annual pay and work status to decide whether you are qualified for the loan.
Your credit score helps the bank in deciding how much loan ought to be authorized as well as the loan cost.
You need a minimum income to meet all requirements for the loan, as moneylenders set this as a qualification standard in light of which they choose if you can reimburse the loan. You need to give records to the moneylender to confirm the same.
Most of the moneylenders give home loans just to occupant Indians.
At the point when you apply for this loan at an early age, the span of the loan is higher. This will result in doable EMIS and paces of interest. The vast majority of the lender will expect you to be in the age gathering of 21 to 70 years (the most extreme retirement age in the event of salaried representatives)
Lenders will also consider your outside liabilities while assessing your application. This is to guarantee that you don't default on your EMIS. If you are an individual with next to no outer liabilities and a sound reimbursement capacity, you will be considered a top candidate for home loans in Chennai.
Documents Required for Home Loan
Home verification (all candidates with relationship evidence)
PAN Card duplicate (all candidates with relationship confirmation)
Aadhaar Card duplicate (all candidates with relationship verification)
One passport-size photo
Pay slip of 90 days
Form 16 or ITR of the most recent 3 years
Bank statement of most recent half year (
Details of the current loan (if any)
All property documents (chain) with sanction map
Verification of the presence of organization firm/organization/HUF/LLP if there should arise an occurrence of the self-employed candidate
Types of Home Loans offered in Chennai
Banks and non-banking financial companies (NBFCs) provide a diverse range of home loan products. Home loans in Chennai are classified into the following types based on the needs and goals of the customers.
Can be used by qualified borrowers looking to buy a new house/flat or an existing property.
Home Loan for Construction
Suitable for those who prefer to build their own home rather than buy an already built one.
Can be obtained if you want to move to a new house/flat after having previously obtained a home loan and purchased a house/property with it.
Home Loan for Extension/Expansion
Offered to prospective borrowers who want to extend, expand, or change the structure of their current property/house.
Ideal for those looking to repair or renovate an existing home.
A loan against property is a secured loan obtained against real estate, either residential or commercial, held as security by the lender.
Home Loan Balance Transfer
Home Loan Balance Transfer can be chosen by those who want to transfer their existing home loan from one lender to another for reasons such as lower interest rates and better customer service provided by the other bank.
NRI home loans are designed specifically for Non-Resident Indians (NRIs) looking to purchase a residential property in India. The procedures and formalities involved in the approval process for NRI home loans differ from those for regular bank home loans.
How to Apply for Home Loan in Chennai
Complete the application form
Document verification
Background investigation
Get Your Credit Report
Pay the processing fee.
Assessment of repayment capacity
Property document processing
Disbursements of Loans
Contact Us:
Chennai – Avadi
95/13, Nelson Manickam Road,
Kannigauram Bus Stand,
Near Ponnu Supermarket,
Chennai, Avadi – 600054
Chennai – Perambur
Door No 99/77,
2nd floor, Lakshmi Ram,
Perambur high road,
Perambur 600011
Chennai – Tambaram
Office no – C
First Floor, ND Building,
Rajagopal Street,
Kadaperi, Tambaram,
Chennai – 600045
Chennai – Thiruvallur
No:20/5, 20/6,
JN Road Periyakuppam,
Near-Total Gas Station,
Tiruvallur – 602001
Share this article on WhatsApp
Also read: